COMEDY NIGHT AT THE PLAYHOUSE

IMPROV: CT CAGE MATCH SERIES

Oct. 21 - Hole In The Wall

Nov. 25 - Playhouse On Park

Dec. 16 - Hole In The Wall

Feb. 17 - Hole In The Wall

Mar. 30 - Playhouse On Park

May 4 - Playhouse On Park


FRIDAY, FEBRUARY 10, 2012
8:00PM All Seats $10
Doors open at 7:30pm, show starts at 8:00pm. BYOB 

A night of unscripted fun! Come see some of Hartford's  best improv groups - some created on-the-fly for this night only - perform comedy, inspired by your suggestions.
 


HOME BREW is a diverse group of people ranging from a former politician, to a hacker, to an orthodontist. They met at Claire Zick's Advanced Improvisation class in the spring of 2011 and have been practicing together since.
FRANKLIN'S PEACHES
will perform 4Track, a fast-paced, high-energy show spun from a single audience suggestion.
THE STICKS are a group of absurdly old theater nerds who have performed together from as far back as 1981 - also a great year for REO Speedwagon. They live mostly in East Hampton which is a lot like Hartford only with more people on the weekends. A few of them are married to one another. Most of them have children. Lots of children. Holy crap that's a lot of children. We're all very impressed with your fertility. In 2010, after years of doing plays, vacations and binge-drinking exercises together, they decided to teach themselves longform improv. It was an audacious goal, but one that at least two of them at some point were sort of certainish that they could pull off probably. Watch them and you be the judge. It's your right as an American/Canadian/Glastonburian pursuer of comedy."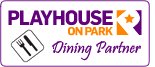 Show your tickets before or after the show at any one
of our dining partners and receive a discount or free offering.