COMEDY NIGHT AT THE PLAYHOUSE

IMPROV: CT CAGE MATCH SERIES

Oct. 21 - Hole In The Wall

Nov. 25 - Playhouse On Park

Dec. 16 - Hole In The Wall

Feb. 17 - Hole In The Wall

Mar. 30 - Playhouse On Park

May 4 - Playhouse On Park

CT COMICS UNCUT II -

TEN COMMEDIANS PLAY FOR TEN MINUTES EACH!
SATURDAY, MAY 5, 2012
8:00PM All Seats Reserved $25
Doors open at 7:30pm, show starts at 8:00pm. BYOB 
DR. JAY SUTAY (Headliner) , the self-proclaimed "Hardest Working Pediatrician in Comedy", is a frustrated pediatrician from South Windsor, CT, who brings his tales from the exam rooms, his experience working with kids and their parents, as well as his own tribulations as the father of two teenage daughters to his stand up comedy.  His cutting and sometimes incisive commentary about society, parenting and raising kids, has left audiences laughing, and begging for more Dr. Jay!!

After 20 years away from comedy, Dr. Sutay resurrected his long dormant stand up act in December 2006 by taking the stage at Hartford's Brew Ha Ha Comedy Club.  According to those in attendance, he did not suck.  Since that night, Dr. Jay has performed at multiple venues in Connecticut, Massachusetts, and New York.  Dr. Jay is a regular contributor to The Miserable Men Show on Sirius/XM Radio.  Dr. Sutay has consistently been named a "Top Doc" by Connecticut Magazine.  In addition, he has performed his stand up comedy at charity benefits including "Golf Fore the Kids", "Autism Speaks", "Cherish the Children Foundation", "Crayons for Cancer", and "Stand Up to CF".  For more information, go to www.StandupPediatrician.com
SARAH SMALLWOOD (Emcee) has performed all over her living room (she is a favorite at "The Couch.")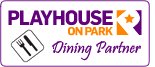 Show your tickets before or after the show at any one
of our dining partners and receive a discount or free offering.