COMEDY NIGHT AT THE PLAYHOUSE

IMPROV: CT CAGE MATCH SERIES

Oct. 21 - Hole In The Wall

Nov. 25 - Playhouse On Park

Dec. 16 - Hole In The Wall

Feb. 17 - Hole In The Wall

Mar. 30 - Playhouse On Park

May 4 - Playhouse On Park


WEDNESDAY, NOVEMBER 23, 2011
8:00PM All Seats Reserved $15
Doors open at 7:30pm, show starts at 8:00pm. BYOB 
JOHNNY RIZZO (Headliner) is an Emmy Award nominee for "Hot Summer Nights New England Comedy Festival". He has also won the Best Comedy Feature at the New York International Independent Film and Video Festival for "Night of 1000 Guidos". He's appeared in all the top comedy clubs including Dangerfield's and Comic Strip and opened for such acts as Jay Leno, Joan Rivers, Ray Charles, Henny Youngman, Richard Belzer and Frankie Valli. Film appearances include "The Effect of Gamma Rays on Man-in-the-Moon Marigolds" and "Indiana Jones and the Kingdom of the Crystal Skull". TV credits include "30 Seconds to Fame" on FOX TV, A&E's "Comedy on the Road" and "P.M. Magazine".
MIKE JACOBS (Opening Act) Mike Jacobs' edgy and intensely personal brand of autobiographical humor traces its roots to the North End of Hartford where he was voted "funniest kid" in the 6th grade. His stories of "life" are hilarious, relevant to all.......and true! His passion for comedy and laughter has had audiences in stitches from Rhode Island to Washington, DC. Feel the energy as Mike walks you up and down the "mean" streets of his very funny life. He is a weekly regular in all the top clubs in NYC but can be found anywhere people come to laugh. Among his many credits, Mike was named named one of NYC's top 64 comics in Carolines "Final Four" contest, a finalist in Treehouse Comedy's "Funniest Comic in New England, and recently performed in the 2011 "Stand Up 360" NYC Comedy Festival. He will also be featured in the 2011 Boston Comedy Festival.  For those film buffs who like "obscure" documentaries, Mike was featured in the documentary, "Why Stand Up", a gritty look inside the world NYC stand up.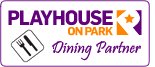 Show your tickets before or after the show at any one
of our dining partners and receive a discount or free offering.