COMEDY NIGHT AT THE PLAYHOUSE

IMPROV: CT CAGE MATCH SERIES

Oct. 21 - Hole In The Wall

Nov. 25 - Playhouse On Park

Dec. 16 - Hole In The Wall

Feb. 17 - Hole In The Wall

Mar. 30 - Playhouse On Park

May 4 - Playhouse On Park


SATURDAY, SEPTEMBER 3, 2011
8:00PM All Seats Reserved $15
Doors open at 7:30pm, show starts at 8:00pm. BYOB 
SAM GREENFIELD (Headliner) is a national headliner and an award-winning radio talk show host. In addition to having appeared on news channels over sixty times, he is a blogger for the Huffington Post and has appeared on several comedy shows including EVENING AT THE IMPROV and GIRLS NIGHT OUT. He is also a $100,000 winner on WHO WANTS TO BE A MILLIONARE?

Sam will be joined by:


JOHN PORCH (Opening Act) John first decided to take the stage in 2003 in Boston. Upon discussing his gripes, frustrations, insecurities, and the poor decisions he frequently makes, he noticed something. Some people were actually laughing at him. The booker noticed as well and asked John to come back and perform again and he has been performing ever since. Since then, John has gone on to work with the likes of Robert Kelly, Doug Stanhope, The Reverend Bob Levy, and in 2011 he was named the Best Comic in Rhode Island by the Providence Phoenix.  So come watch John and laugh as he tries to save the world one show at a time.
BARBARA SINGER (Emcee) has appeared in comedy clubs across the country, including in the Flamingo in Las Vegas and the Comedy Store in Los Angeles. She produces and hosts the Full Metal Mamas stand up comedy show, based at Broady Comedy Club in NYC. She has performed on radio and Television, appearing on The Alan Colmes Show on Fox Radio, Time Warner Cable's Standup New York, and Fox's Funniest Practical Jokes.   Barbara has also appeared at the Boston Comedy Festival, New Your Underground Comedy Festival and the Mamapalooza Festival.  She lives on the Lower East Side of Manhattan with her husband, her 12 year old daughter, and a cat with binge eating issues.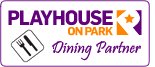 Show your tickets before or after the show at any one
of our dining partners and receive a discount or free offering.