BUSYTOWN
Book by Richard Scarry
Play by Kevin Kling
Music by Michael Koerner
November 1 - 9, 2014


FRECKLE FACE STRAWBERRY
THE MUSICAL
Music and Lyrics by Gary Kupper
Book by Gary Kupper and Rose Caiola
Based on the books written by Julianne Moore
May 16 - 24, 2014
Welcome to our Sixth Season:
2014 - 2015 Young Audiences Series
Playhouse Theatre Group, Inc. is excited to present our show for young audiences for the 2014-2015 Season. We are committed to offering diverse and high-quality programming that will both entertain and challenge our audiences. Our offerings for young audiences are designed to introduce children to theater and educate as well as entertain. We include activities that can involve the children such as coloring pages, meet the cast after the show and specials aligned with our neighbor restaurant, A.C. Petersen Farms.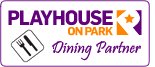 Show your tickets before or after the show at any one
of our dining partners and receive a discount or free offering.