DANNY AND THE DEEP BLUE SEA

by John Patrick Shanley

November 6 - 16, 2014

OLEANNA

by David Mamet

May 21 - 31, 2015

SUBSCRIBER SPECIAL: Buy tickets to both On-The-Edge shows for just $15!
The Playhouse on the Edge series presents new, bold, and provocative contemporary plays that will challenge and enhance the experiences of Hartford area theatre audience. 

Jump to OLEANNA

DANNY AND THE DEEP BLUE SEA
by John Patrick Shanley
November 6 - 16, 2014
$22.50 adults $20 students, seniors, & Let*s Go ARTS

Directed by Sean Harris


Recommended for ages 16 and up.
Contains strong language, scenes of violence, brief nudity
The setting is a rundown bar in the Bronx, where two of society's rejects, Danny and Roberta, strike up a halting conversation over their beer.  He is a brooding, self-loathing young man who resorts more to violence than reason; she is a divorced, guilt-ridden young woman whose troubled teenage son is now being cared for by her parents. Danny, whose fellow truck drivers call him "the animal," seems incapable of tender emotion, while Roberta, who is still haunted by the memory of an ugly sexual incident involving her father, is distrustful of men in general.  And yet, as their initial reserve begins to melt, and they decide to spend the night together, the possibility of a genuine and meaningful relationship begins to emerge—the first for both of them. In the end there are no facile, easy answers, but thanks to the playwright's skill and compassion, both characters are able to probe within themselves to find an exorcism and forgiveness that, while painfully achieved, offers the hope of a future touched, at last, with more than the bitterness and loneliness that had been their lot before their fateful meeting.
An explosive, deeply affecting study of alienation and the redemptive power of love. "…a wrenching love story that swept through the downtown Circle in the Square last night like a tidal wave." —NY Daily News.

"…the play is the equivalent of sitting at ringside watching a prize fight
that concludes in a loving embrace." —NY Times.

"…a funny, frightening, hypnotically fascinating evening of theatre…" —Drama-Logue.
ERIN KROM (Roberta) Playhouse on Park: Sally Bowles (CABARET). Other credits: Pittsburgh Rep: OF MICE AND MEN, THE VISIT; Geva Theatre Center and Cape Playhouse: THE ODD COUPLE; Pittsburgh Public Theatre: OUR TOWN; Everyman Theatre: PRIVATE LIVES; Secret Theatre: SIDE SHOW; Totem Pole Playhouse: CHAPS!, IT COULD BE ANY ONE OF US; New York Musical Theatre Festival: MY ILLUSTRIOUS WASTELAND; Civic Light Opera: A MUSICAL CHRISTMAS CAROL; Pittsburgh Irish & Classical Theatre: A WOMAN OF NO IMPORTANCE, HENRY; Dog & Pony Show: RHINOCEROS; Pittsburgh Playhouse: DANGEROUS LIAISONS, RED, ANYTHING GOES; Tuacahn Amphitheatre: PETER PAN, SOUTH PACIFIC.



JONATHAN GREGG* (Danny) Playhouse on Park debut. Hartford Stage, NYMF: FEATHER, BLOOD BROTHERS; APAC: THE HUMAN COMEDY, MAN OF LA MANCHA; Gallery Players: SIX DEGREES OF SEPARATION; Prospect Theatre: ONCE UPON A TIME IN NEW JERSEY; Theatre by the Sea: MONTY PYTHON'S SPAMALOT; ReVision Theatre: THE FULL MONTY. TV: "Scorned" (DiscoveryID), "I Killed My BFF" (BioChannel), "Deadly Sins" (DiscoveryID),"Wade Barrett Comeback Promo" (WWE Productions). Thanks UIA family! Proud graduate of Belmont University and member of AEA.


*Appears through the courtesy of Actors' Equity Association, the Union of Professional Actors and Stage Managers in the United States.
OLEANNA
by David Mamet


May 21 - 31, 2015
$22.50 adults $20 students, seniors, & Let*s Go ARTS

Directed by Dawn Loveland


Recommended for ages 16 and up.
Strong language, scene of violence
OLEANNA is Pulitzer Prize winner DAVID MAMET's most controversial drama. This gripping production has had audiences gasping and critics raving.
OLEANNA has electrifying dialogue, blazing emotion and an ending that will leave you talking for weeks. In this riveting drama, a college professor and his female student become embroiled in a war of words that takes a dangerous turn. As their serene campus transforms into a battleground for justice, Mamet's explosive masterpiece dares you to take a side . . . if you can.
A seething investigation of "political correctness" in a time when the nation's morality has been tested by increased incidents of sexual harassment. "OLEANNA is likely to provoke more
arguments than any play this year." -NY Times.


"One of the ten best plays of 1992.reason enough to cheer for the future of the theatre." -Time Magazine.
DAVID M. FARRINGTON (John) Playhouse on Park: Chasuble THE IMPORTANCE OF BEING EARNEST. New York: Uncle Peck HOW I LEARNED TO DRIVE, George NEGATIVE IS POSITIVE, Russell BAPTIZED, RMody31 I WROTE ON UR WALL…, Det. Byrnes THE RYAN CASE 1873. Regional: Sam GRACE, Michael LOST BOY FOUND IN WHOLE FOODS, Curley OF MICE AND MEN. Film: NAZ & MAALIK, [ESCAPE], TV: REDRUM, MONSTERS INSIDE ME. I've wanted to play this role since I first read the script 20 years ago. Many thanks to Dawn and Sean for making a dream come true! www.davidmfarrington.com
MOIRA O'SULLIVAN (Carol) Playhouse on Park debut! Atlantic Theater Company: Multiple Roles ATLANTIC FARM TEAM: AN EVENING OF SKETCH COMEDY, Lana, THE MCDONALD'S PLAYS; Bated Breath Theater: Ensemble WILD THINGS; Ivoryton Playhouse: Edna AN INSPECTOR CALLS; New York University: Leonora Banning THE LONG CHRISTMAS DINNER, Meaghan FUTURE TENSE; Film/TV: Queen Amethyst HURRAY SPACE! (pilot dir. Ted Sluberski). Moira earned her BFA in Drama with honors from New York University's Tisch School of the Arts where she trained with the Atlantic Theater Company and Stonestreet Screen Acting Studios. www.moiraosullivan.com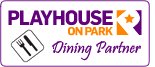 Show your tickets before or after the show at any one
of our dining partners and receive a discount or free offering.

Season 6 Subscription Form | Ticket Info Page | Buy Tickets | Calendar