Playhouse on Park's 2014-15 Main Stage Season 6 consists of seven diverse productions, including plays, musicals and an original dance/theatre production. This year's selections were chosen to educate, entertain and challenge audiences.

BOOK CLUBS: Read the book, then see the show! Group rate available. Learn more here.

ANGELS IN AMERICA: PART ONE: MILLENIUM APPROACHES
by Tony Kushner
October 1st - 19th

The first part of Tony Kushner's epic drama of America in the 1980s.  Winner of the 1993 Pulitzer Prize for Drama.  Winner of the 1993 Tony Award for Best Play.

Directed by: Sean Harris
ALTAR BOYZ
book by Kevin Del Aguila, music and lyrics by Gary Adler
December 3rd - 21st

ALTAR BOYZ is a foot-stomping, rafter-raising, musical comedy about a fictitious Christian boy-band on the last night of their national 'Raise the Praise' tour. The Boyz are five all-singing, all-dancing heartthrobs from Ohio: Matthew, Mark, Luke, Juan and Abraham.  With their tight harmonies and spectacular choreography, the ALTAR BOYZ will delight you. 

DIrected by: Kyle Brand





PROOF
by David Auburn
January 21st - February 8th

Winner of the 2001 Pulitzer Prize and Tony Award for Best Play.  On the eve of her twenty-fifth birthday, Catherine, a troubled young woman, has spent years caring for her brilliant but unstable father, a famous mathematician.  Now, following his death, she must deal with her own volatile emotions.

Directed by Dawn Loveland
THE DINING ROOM
by A.R. Gurney
February 18th - March 8th
A brilliantly conceived and richly humorous theatrical tour de force (and Off-Broadway success) in which six performers portray a wide array of diverse characters as they delineate the dying lifestyle of wealthy WASPdom, and the now neglected room which was once a vital center of family life.

Directed by Sasha Bratt
DIGITS/ Dig It!
STOP/TIME DANCE THEATER
created by Darlene Zoller
March 18th - 29th
You can count on another great evening of song and dance awaits you when stop/time dance theater, residence dance company at Playhouse on Park, takes to the stage for their 12th original production.



THE IMPORTANCE OF BEING EARNEST
by Oscar Wilde
April 15th - May 3rd

Effervescent romantic exploits meet scintillating social satire in one of the most celebrated comedies of all time. Jack and Algernon pursue countryside adventures and the young ladies who have won their hearts. Mistaken (and falsified!) identities prevail in this delicious comedy of manners until the young gents cross the formidable Lady Bracknell, giving audiences laughs to last a lifetime.

Directed by: Jerry Winters
HAIR
book and lyrics by Gerome Ragni and
James Rado
music by Galt MacDermot
June 10th - July 19th

HAIR puts rock music and the culture that went with it on stage.  The show has a strong effect on everyone, and acts as a bridge between generations and viewpoints.  What looks like incredible chaos is actually organized chaos.  Phenomenal musical numbers include Aquarius, Good Morning Starshine, I Believe in Love, Hair, I Got Life and What a Piece of Work Is Man. This show has a vitality, a timelessness and a meaning that outlives the late 1960's and early 1970's in America. Winnter of the Tony Award for Best Revival of a Musical.

Directed by Sean Harris, Music Direction by Colin Britt, Choreography by Darlene Zoller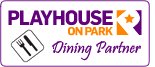 Show your tickets before or after the show at any one
of our dining partners and receive a discount or free offering.

Season 6 Subscription Form | Ticket Info Page | Buy Tickets | Calendar