COMEDY NIGHT AT THE PLAYHOUSE

IMPROV: CT CAGE MATCH SERIES

Oct. 21 - Hole In The Wall

Nov. 25 - Playhouse On Park

Dec. 16 - Hole In The Wall

Feb. 17 - Hole In The Wall

Mar. 30 - Playhouse On Park

May 4 - Playhouse On Park
CT CAGE MATCH SERIES
A  no holds barred competition where two improv teams compete head-to-head -- and you decide the winner! Only one team will be victorious and your vote counts! The winner returns to defend their title at the next show of the series. Bring your friends and come vote for the best improv team in this one to one matchup. A collaboration between Playhouse on Park, Hole in the Wall Theater and Hot Cocco Productions. Three matches will be held at Playhouse on Park and three at Hole in the Wall Theater.

$10 per person. Match starts at 8:00pm
Playhouse On Park
Hole In the Wall
November 25, 2011
8:00pm
October 21, 2011
8:00pm
March 30, 2012
8:00pm
December 16, 2011
8:00pm
May 4, 2012
8:00pm
February 17, 2012
8:00pm
MAY 4th, 2012 > Horse Lincoln vs Sea Tea Improv at Playhouse on Park
HORSE LINCOLN is a purely long form improv group that was started in September of 2008 at the University of Connecticut. They are made up of students from all class ranks and backgrounds, with varying improv experience. Over the two and a half year lifespan, Horse Lincoln has seen several different successes including winning the 2009 Hole in the Wall Theater Cage Match tournament, and performing in NYC's Del Close Marathon for improv groups. Specializing mostly in harold and montage format, Horse Lincoln has a growing fan base both on the UConn campus and abroad! You can find Horse Lincoln on facebook for information about all upcoming shows and audition information.


SEA TEA IMPROV officially burst onto the comedy scene on April Fool's Day, 2009 (yes, it was just an awesome coincidence). The troupe of ten players, professionally trained by the Hartford Stage Company and the Upright Citizens Brigade in New York, performs in Hartford and beyond on a regular basis.

Sea Tea Improv has performed over 100 times throughout northeast, and you can find them every month at City Steam's Brew Ha Ha Comedy Club where they have been presenting their signature short-form improv show for over two years.  Additionally, Sea Tea Improv performs long-form improv specials like Sex and the Sea Tea, an improvised dating comedy based on relationship stories from the audience. Visit Sea Tea Improv's website find out what they're up to next  http://seateaimprov.com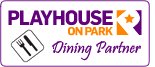 Show your tickets before or after the show at any one
of our dining partners and receive a discount or free offering.