COMEDY NIGHT AT THE PLAYHOUSE

IMPROV: CT CAGE MATCH SERIES

Oct. 21 - Hole In The Wall

Nov. 25 - Playhouse On Park

Dec. 16 - Hole In The Wall

Feb. 17 - Hole In The Wall

Mar. 30 - Playhouse On Park

May 4 - Playhouse On Park


SATURDAY, MARCH 31, 2012
8:00PM All Seats Reserved $15
Doors open at 7:30pm, show starts at 8:00pm. BYOB 
MIKE PRIOR (Headliner) Mike has toured with several national recording artists such as Weird Al Yankovick, and Randy Travis. He was one of the featured performers on a Comedy Central special in 2004, and has played supporting roles in commercials for the New England Aquarium and Boston Center for the Arts. His ability to work clean has made him a fan favorite at hundreds of corporate and college venues.
Mike has an amazing ability to turn life's most frustrating moments into hilarious stories in which everyone can relate. The victim of a recent mugging, Mike now calls himself a professional victim. He believes that if there was ever a school for professional criminals, he would be the first homework assignment.
JANE CONDON (Opening Act) Comedian Jane Condon won Audience Favorite (NY) on NBC's "Last Comic Standing." She has also appeared on the"The View," "24," and "The Today Show." The Associated Press calls her "an uppercrust Roseanne." Her acclaimed one-person Off-Broadway show is called "Janie Condon: Raw & Unchained!" She was the 2011 Commencement speaker at Wellesley College. Check her out at www.janecondon.com
DAVID HINTZ (Emcee) Based out of New Haven, CT, David got in to comedy because of a promise he made to himself.  "Graduate from college and you can pursue stand-up."  Now, after years of waiting to go on last at open mics only to perform in front of  the amount of people you'd expect to stay out until after midnight on a Wednesday, he only has one regret...that he went to college.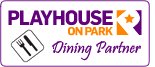 Show your tickets before or after the show at any one
of our dining partners and receive a discount or free offering.