COMEDY NIGHT AT THE PLAYHOUSE

IMPROV: CT CAGE MATCH SERIES

Oct. 21 - Hole In The Wall

Nov. 25 - Playhouse On Park

Dec. 16 - Hole In The Wall

Feb. 17 - Hole In The Wall

Mar. 30 - Playhouse On Park

May 4 - Playhouse On Park


SATURDAY, FEBRUARY 4, 2012
8:00PM All Seats Reserved $15
Doors open at 7:30pm, show starts at 8:00pm. BYOB 
PEACHES RODRIGUEZ (Headliner) Mariette "Peaches" Rodriguez is Veteran Stand-up comic for over 12 years working in New York city clubs such as The comic Strip Live and Stand-up NY. Some of her recent Touring credits include: • The Riviera Casino and hotel in Las Vegas • Jack Daniels Latino Comedy Festival. • USO tour to the Middle East to support and entertain our Troops. She has recently moved into producing films with her first independant film called, "The Latin Heavy Hitters of comedy" photographed entirely In New York. The film has been selected for The MTV VIBE sponsored, URBANWORLD FILM festival.
CAROLYN PLUMMER (Opening Act) God help us. Some comics rely on the monumental events of the day or the faux pas of the rich and famous. Not Carolyn. Carolyn pulls material from the hum-drum, day-today monotony of the life of everyman. And she does it well. To Carolyn the monumental is easy…it's our existence that's so hard, yet so ridiculous. Some women look in the mirror and complain because they aren't pretty enough, not rich enough, not young enough. Carolyn gives her reflection the finger.

The third child of a Congregational Minister and an "aloof" home maker mother; "aloof"? She's clueless; her favorite band is Blootie and the Hoefish." C.P. Carolyn learned early on that she could lament or she could make fun. See her once and you'll quickly figure out which path she chose. And you'll laugh. Possessing an uncanny ability to introspectively pull from places most of us hide, Carolyn puts a nail through the heart of whiners, self-loathers and the self-sorry of the world and makes the average seem hilarious and larger than life. Most of all, Carolyn's twisted perception of our common existence leaves audiences hysterically shaking heads in agreement with her assessment that the world is indeed a very funny place.
ADAM OLIENSIS (Emcee) has been working in comedy for longer than he cares to admit. Not just in stand-up but also in acting, writing, directing, and producing for TV, theatre, film, and commercials. In his stand-up, Adam explores the lessons in humility he's learning from his wife and especially from his children, along with the adjustments that genuine adulthood are forcing upon him.

Having lived in East Africa, India, and New Jersey, Adam is attuned to the absurdities that arise in the everyday, mining both the ironies and silliness that exist in the most humbling situations. Adam performs at comedy clubs all over NYC, including Gotham Comedy Club, Broadway Comedy Club, New York Comedy Club, Times Square Comedy, Laugh Lounge, and Cafe Addis, as well as at private events, corporate events, and Synagogues throughout the Northeast.

As a writer, Adam co-authored the movie, The Pompatus of Love, with Jon Cryer (Best Comedy, Worldfest-Houston), which he also co-produced and in which he starred along with Mr. Cryer and Kristen Scott Thomas, among others. Adam's plays have been produced by Ensemble Studio Theatre, among other companies in New York, as well as in Los Angeles and regionally, and his work has been published by Dramatists Play Service. He has also penned several TV pilots, which have been produced for Cable TV. As an actor, Adam has appeared on Broadway, Off Broadway, in Regional Theatre, in the movies, on episodic TV, and in hundreds of TV and radio commercial. He was nominated for a Clio Award (the Oscars of commercials) for Best Performance.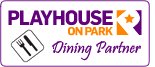 Show your tickets before or after the show at any one
of our dining partners and receive a discount or free offering.