SATURDAY, OCTOBER 26, 2013
8:00PM All Seats Reserved $15
Doors open at 7:30pm, show starts at 8:00pm.
BYOB 
MIKE JACOBS (HEADLINER)

Mike's edgy brand of autobiographical humor traces its roots to the North End of Hartford, Conn where he was voted "funniest kid" in his 6th grade class along with "best legs". His stories of life are hilarious, relevant, and true! Feel the energy as Mike takes the stage and walks you up and down the mean streets of his very funny life. Mike is a NYC favorite where he can be seen weekly at all the "A" clubs as well as anywhere across the country where people like to laugh. He recently opened for the legendary Robert Klein and will be opening for Richard Lewis (Curb Your Enthusiasm) this Fall. He has performed at the prestigious Boston Comedy Festival and the NYC 360 StandUp Comedy Festival. A recent review by VENUE Magazine summed it up best..."Audiences love Mike Jacobs..and so will you."

KELSEY FLYNN (Middle Act)

was born and raised in Montclair, NJ. She loved living there but it just got so expensive. I mean, have you seen the house prices? Steve Colbert lives there! So she makes her home in Northampton, Massachusetts with her wife, Jaime, and their almost-two-year old son, Gram. You can have a house, a small yard and live close to a bustling downtown without an award-winning cable comedy show. Kelsey began her comedy career in the mad world of improv, training with comedy stalwarts like ImprovOlympic and The Annoyance Theater in Chicago. She branched out to the stand up world in San Francisco and since then has performed at venues such as the Gotham Comedy Club, Catch a Rising Star and Caroline's in New York, and the Comedy Studio and Lizard Lounge in Boston. Kelsey is really excited to be back at Playhouse on Park. Everyone's so friendly here and it's right next door to awesome ice cream.




MIKE MURRAY (Emcee)

was hearing Impaired til the age of 40, then recieved Cochlear implants in both ears. A friend dared him to take the stage. Mike Murray's unique act has taken him all over NE sharing HIS take on going from the non hearing world to the hearing world and is a crowd favorite! 'It's comedy loud and clear!'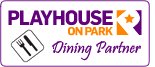 Show your tickets before or after the show at any one
of our dining partners and receive a discount or free offering.