SATURDAY, MAY 3, 2013
8:00PM All Seats Reserved $15
Doors open at 7:30pm, show starts at 8:00pm.
BYOB 
MARION GRODIN (HEADLINER)

Marion Grodin started out as a sitcom writer, writing for "It's A Living" and "Princesses". She then went on to become a successful screenwriter, selling five screenplays and being put under contract to Twentieth Century Fox. Just as she was about to embark on her sixth screenplay, it dawned on her that her father hadn't nicknamed her "Mouth" for nothing, and she decided to start saying all those funny things she'd been writing for other people to say! For the last twenty years, Marion has been one of the hottest standups in the country, Headlining, as well as opening for Linda Ronstadt, Lewis Black, Robert Klein, and many other luminaries. Marion has also been on the Conan O'Brien Show, and The View (twice!) In addition she just became a published author, with the release of her first book, "Standing Up: A Memoir Of A Funny (Not Always) Life"!

DANNY COHEN (Opening Act)

New York based comedian, Danny Cohen, first gained recognition as the co-creator and co-host of Spin Cycle Comedy, a weekly comedy/variety show held in a Laundromat. The success of this show was featured in the style section of The New York Times, ABC news,CNN, MTV, Marie Claire Japan, Newsweek Magazine and London's The Sunday Independent. Danny has also appeared on Comedy Centrals Premium Blend, and was the 1st runner up in the search for AMERICAS WACKIEST COMEDIAN!,sponsored by KRAFT Foods. In 2009,Danny won Best Spec for his short animation BEN GAY in The BeFilm Underground Film Festival and in 2010, he received the MAC Award for Outstanding male comic in NYC. He's been a featured comic at the Just for Laughs Comedy Festival Out Olympics in Montreal and is the creator of the Facebook semi sensation, FastFilms.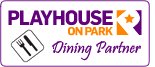 Show your tickets before or after the show at any one
of our dining partners and receive a discount or free offering.