SATURDAY, JANUARY 11, 2013
8:00PM All Seats Reserved $15
Doors open at 7:30pm, show starts at 8:00pm.
BYOB 
MAX DOLCELLI (HEADLINER) has appeared just about everywhere and done just about everything a comedian can do, performing in comedy clubs and comedy festivals in the U.S. and Canada, casinos and clubs in Las Vegas, Atlantic City and the Bahamas, at corporate events and on cruise ships, and on television and radio.

After nearly 30 years of making people laugh, Max has the experience and repertoire to deliver the kind of show people want, whether it's clean comedy for a corporate, private or other event, or a more risqué, late-night comedy club style. No matter what the type of show, Max's animated onstage presence and sharp material get the audience on board for a wild ride. [website]
CHRISTINE HURLEY (Middle Act) loves what she does…making people laugh! Married to Jimmy Hurley and having five kids, Christine is never at a loss for comedic material. Like any great comedian, Christine has an innate ability to see humor in "everyday" situations. For years, she entertained family, friends and neighbors in their kitchens, at barbeques and the grocery store aisles. The only difference now is she uses a microphone and a stage.

Christine's maiden voyage into the world of stand up comedy was an open audition in New York City. The television network Nick at Nite was looking for "AMERICA'S FUNNIEST MOM." She figured if it didn't go well, no one in New York would have known who she was anyway… Turns out it went well! Out of thousands of entries, Christine was selected to be a finalist on the nationally televised show. The producers of the show included Carol Leifer (Seinfeld show producer), Jeff Singer (talent scout, Montreal Comedy Festival), Jeffrey Ross (Comedy Central roast master) and actress Sandra Bernhardt. [website]

JOHN PORCH (Emcee) first took the stage in Boston in 2003. Since then he has performed up and down the east coast with the likes of Gary Gulman, Robert Kelly, Sebastian Maniscalco, Reverend Bob Levy, and Doug Stanhope. He was a finalist in the Catch A New Rising Star competition and in 2011 was named Best Comedian in Rhode Island by The Providence Phoenix.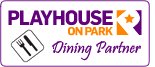 Show your tickets before or after the show at any one
of our dining partners and receive a discount or free offering.