SATURDAY, SEPTEMBER 14, 2013
8:00PM All Seats Reserved $15
Doors open at 7:30pm, show starts at 8:00pm.
BYOB 
| | |
| --- | --- |
| | JIM MENDRINOS (HEADLINER) Inspired by his New York City roots and an eclectic collection of artists – including comics Robert Klein, Richard Pryor and Freddie Prinze, with traces of John Coltrane, Jack Kerouac and Beyond the Fringe thrown in for good measure, Jim blows right by the standard comedy fare. Simply put Jim Mendrinos carries on an hour-long conversation with the audience. His act is a comedic exploration of emotional peaks and valleys challenging the audience to mine the topics with him. Jim is a seasoned, professional stand-up comedian. Starting at the age of 19, the audience has seen Jim grow up before their eyes, appreciating his unique outlook on life every step of the way. The audience goes from the laughter of recognition, as Jim covers the things they were talking about 'just today,' to the laughter inspired by delighted wonder as they experience new things through the flat out funny observations of this trusted performer. [website] |
| | LIZ MIELE (Middle Act) started doing stand-up comedy at 16. At 18, she was profiled in The New Yorker. At 22, she appeard on Comedy Central's "Live at Gotham". Liz continues to perform stand-up comedy all over the country at clubs and colleges. She's a comedy nerd, a cat enthusiast and has an unhealthy love for all things sweet. When she is not taking an obscene amount of pictures of her cats, she is reading something disturbingly sad or pretentiously upbeat and hopeful. She is on a constant search to prove or disprove she is losing her mind and is an avid runner who runs the Marine Corps marathon in DC every year with her Dad. Her cat's name is Pasta. She is the second oldest of five kids and both her parents are veterinarians. [website] |
| | LORI SOMMER (Emcee) took an unlikely path to stand-up comedy that started with her being a hip hop dancer on shows like Club MTV and Soul Train. It brought her all the way to the bright lights of NYC where she traded her tap shoes for punchlines. Lori never lost her dancing sensibilities as her comedy is rhythmic, majestic and prone to unexpected moves. How exactly did an Italian girl from Long Island go from dancing on stage with DMX to performing on stage with a two drink minimum? Come to a show and find out! |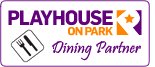 Show your tickets before or after the show at any one
of our dining partners and receive a discount or free offering.