Metamorphoses" is based on Ovid's classic narrative poem, which tells the transformation myths of the ancient Greeks and Romans. Using contemporary language and familiar characters, such as King Midas and his golden touch and Orpheus and Eurydice in the underworld, Zimmerman's "Metamorphoses" explores the meaning of being alive through moments of change and the expression of universal emotions.  The focal point of the set for "Metamorphoses" is a large pool in which much of the play's action takes place.

This play contains brief nudity and some adult thematic material.

"...Zimmerman's lovely, deeply affecting work...shows that theater can provide not just escape but sometimes a glimpse of the divine." -- Time Magazine

"With its emphases on...the transforming powers of...the imagination...the production has been reducing calloused New Yorkers to sobs." -- New York Times

Directed by Sean Harris


See photos from this production
in our Photo Gallery.

REVIEWS :BroadwayWorld.com | West Hartford News | Hartford Courant | CT Wit


SUN

MON

TUE

WED

THU

FRI

SAT

14
7:30pm (Preview)

15
8:00pm
(Opening Nite)


16
8:00pm


17
2:00pm
Talk Back with the cast


18





19


20
7:30pm



21
7:30pm


22
8:00pm


23
8:00pm


24
2:00pm




25

26


27
7:30pm


28
7:30pm

29
8:00pm

30
8:00pm

JULY 1
2:00pm
AMELIA RANDOLPH CAMPBELL (Second Woman) Playhouse on Park debut. Gene Frankel: Magdelena (HOUSE OF BERNARDA ALBA), Alliance Rep: Joanne Galloway (A FEW GOOD MEN), NYC Fringe Festival: Evie (THE DEATH OF EVIE AVERY), Unity Stage: Margaret (LOYALTIES), Cherry Lane: Ariel (THE TEMPEST), Manhattan Ensemble Theater: Puck (MIDSUMMER NIGHTS DREAM) Amelia lives in New York and makes her work in Film and Commercial as well as her first love, Theatre.
DAVID NATE GOLDMAN (Third Man) Playhouse on Park: (Charlotte's Web),  (Stuart Little.) NYU: (An Enemy of the People), (Wasted Land). Recent screen work includes: J.T. vs. the Good Guys (Promethium Pictures), Olkwood, a webseries (ShankLi Productions), as well as The Apostle (Dreams from the Treehouse Productions) which will begin filming this July, among others. In the fall, David will begin the third of year of his BFA training at NYU Tisch School of the Arts, as a member of the Classical Studio.
HARRISON GREENE  (Fourth Man)  is a Connecticut native and a former student of Sean Harris at Hall High School. He recently received his BFA in Acting at the University of Connecticut, where he studied acting and puppetry. Harrison has studied mask performance abroad in the Netherlands with the international theatre company, Teatro Punto. Connecticut Repertory Theatre credits include:  I'M CONNECTICUT (Mark Twain/Canada), THE LAST DAYS OF JUDAS ISCARIOT (Sigmund Freud/St. Thomas), ABRAHAM LINCOLN'S BIG GAY DANCE PARTY (Lloyd/Timmy),THE WINTER'S TALE(Lord of Sicilia), and PRIDE & PREJUDICE (Ensemble).
MELISSA KAUFMAN (Third Woman) Playhouse on Park debut.   Connecticut Reperatory Company: Ilse (SPRING AWAKENINGS), Ansonia Theatre: Jackie O (HOUSE OF YES), Foote Theatre: Lily (THE SECRET GARDEN), Fastrada (PIPPIN).  Melissa recently graduated from AMDA for Musical Theatre and Acting in NYC and is excited for her first show with Playhouse on Park!
TROY PECKHAM (Second Man) Playhouse on Park debut.  The Secret Theatre: Valet (NO EXIT); Northern Illinois Mainstage: Malvolio (TWELFTH NIGHT); Northern Illinois Mainstage: Guildenstern (ROSENCRANTZ & GUILDENSTERN ARE DEAD). Troy recently graduated from Northern Illinois University, this is his second production since moving to New York.
JILLIAN RORRER (Fifth Woman)  Playhouse on Park debut!  Theatre: Bakerloo Theatre Company: Philomele (The Love of the Nightingale) Maria (Twelfth Night) Rumadoods Theatre: Marcellus (Puppet Hamlet) Stacy (Less Than Three) Snorks and Pins Productions: Maria (Love's Labour's Lost) Marymount Manhattan College Productions: Rachel (Reckless) Flora (27 Wagons Full of Cotton) and Ensemble (Comedy Shmomedy Sketch Comedy Troupe). Jillian graduated Marymount Manhattan College this past May with a BFA in acting and is excited to join the ensemble for this production.
JUSTIN SEASE (Fifth Man) Playhouse on Park Debut! Hippodrome Theatre: Dracula (Dracula), Clown #1 (The 39 Steps), Dudley (Serendib), Christmas Present (A Christmas Carol); Hip to Hip Theatre: Tranio (The Taming of the Shrew), Malcolm (Macbeth); Hampton Theatre Company: Hal (Picnic); American Thymele Theatre: Paris (Rhesus); Blue Ridge Theatre: Jesus (Godspell); Florida Studio Theatre: Marcus (The Chimes), Ensemble (Under Six). Justin is would like to thank his wife and family for their continuous love and support.
QUINN WARREN (Fourth Woman) Playhouse on Park: Bridget (Trapezium);  McCarter Theatre: Libby Packard (Mrs. Packard); Centenary Stage Company: Betty (You May Go Now); Manhattan Theatre Source: Girl (Green Dating); Panicked Productions: Hamlet (Rosencrantz & Guildenstern Are Dead); Artistic New Directions: Lulu (The Ballad of Lulu and Dad); Tri-State Actors Theater: Belle, Martha, Fan (A Christmas Carol); Depot Theatre: Frankie (The Member of the Wedding). Quinn graduated with a BFA in Theatre Arts from Stephens College. www.QuinnWarren.com
ERIC WHITTEN  (First Man)  is honored to be making his Playhouse on Park debut. Recent credits for include Columbia Stages NYC: Jim (True Love), Lobb (The Hothouse), Misha Borkin (Ivanov); Radiotheatre/Horse Trade NYC: Herbert West (Reanimator), Professor (Call of Cthulhu); Gene Frankel Theatre/Planet Connections Festival NYC: Rowan (The Recession Club); NYU/Playwrights Horizons NYC: Giacomo (The Cenci); Wide Eyed Productions NYC: Jeff (Clementine); Columbia University Directors Project NYC: Jurgen Tesman (Hedda Gabler), Willy, Happy, Biff (Death of A Salesman). Visit www.ericwhitten.net for updates.
ASHLEY C. WILLIAMS (First Woman) Playhouse on Park Debut. Off-Broadway: Margaret (TRIANGLE) 59E59 Theater; Juliet (ROMEO AND JULIET) La MaMa E.T.C.; Herianne (SPELLBOUND) Ellen Stewart Theatre; Beatrice (MUCH ADO ABOUT NOTHING) Milagro Theater. Ashley is best known for her leading role in the cult horror film The Human Centipede. She is a graduate of The American Academy of Dramatic Arts, and divides her time between Producing, Writing, and Acting on stage and in film. She is very excited to be apart of this beautiful show!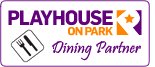 Show your tickets before or after the show at any one
of our
dining partners
and receive a discount or free offering.
Ticket Info Page | Buy Tickets | Calendar