The story of one of the great women of our time. From an impoverished childhood in Russia to Prime Minister of Israel, Golda Meir's life is filled with mystery and breathtaking drama. This intimate and compelling one-woman show invites you into the heart and mind of one of the 20th Century's great leaders.
Starring Kate Alexander
Directed by Terence Lamude

"Make no doubt about it, Golda's Balcony is first-rate theater, and Alexander's performance is a gripping, multi-level seminar on acting techniques."         ~CT Theater News and Reviews

"Kate Alexander makes a powerful, rich impression as Golda Meir...Golda's Balcony and Playhouse on Park are well worth the journey."           ~ Jacques Lamarre, Broadway World

"Kate Alexander is superb... embodying the spirit and courage of a woman who would not back down in her beliefs."     ~ West Hartford News
REVIEWS: BroadwayWorld.com | CT Theater News | W Hartford News | CT Wit

SUN

MON

TUE

WED

THU

FRI

SAT

17
7:30pm (Preview)

18
8:00pm
(Opening Nite)


19
8:00pm


20
2:00pm
Talk Back with the cast


21





22


23
7:30pm



24
7:30pm


25
8:00pm


26
8:00pm


27
2:00pm




28

29


30
7:30pm


31
7:30pm

JUNE 1
8:00pm

2
8:00pm

3
2:00pm
KATE ALEXANDER (Golda) is the Associate Director of Florida Studio Theatre, in Sarasota Florida. She has been involved in the leadership of the soon to be 5 theatre complex for over 30 years. Ms. Alexander has also been a resident actress with FST and some of her favorite leading roles were seen in the plays: THE GOAT, FILUMENA, MASTER CLASS, THREE TALL WOMEN, THE PLAY ABOUT THE BABY and GOLDA'S BALCONY, which she performed for an extended run and a special presentation for Israel's 60th Anniversary. Ms. Alexander has directed numerous productions and premieres on the FST stages including NEXT FALL, I LOVE YOU, YOU'RE PERFECT, NOW CHANGE, SHIRLEY VALENTINE, SHOTGUN, THE MIAMIANS, BROOKLYN BOY, THE EXONERATED, WIT, PROOF, LOBBY HERO, and the current rolling world premiere of JERICHO. Ms. Alexander has created a vast Education program through the FST Theatre School. She has also pioneered an acting training method for children, which serves as the foundation for the FST School, serving 600 children yearly. She co-created the award-winning WRITE A PLAY program touching the lives of over 55,000 children annually and serving as a model for theatres throughout the nation and serving schools in China, Israel, Scotland and The United Federation of Russia. Additionally, Ms. Alexander has developed programs for many organizations including the Ringling College of Art and Design, Children's Museum of Manhattan, the Brooklyn Children's Museum and the Carl Jung Society. Ms. Alexander is the recipient of numerous acting, directing and public service awards, including FAER, She Knows Where She's Going Award (Girls, Inc.), The Woman of Light Award (Westcoast Center for Human Development), The Woman of Power Award, and the Sarasota County Arts Leadership Award. Most recently Ms. Alexander has co- authored the book THE ANIMATED SHORT, soon in its second edition and was recently featured on a PBS special on the WRITE A PLAY program. This fall she will develop a special program in Kiryat Yam, Israel; the collected stories of the Ethiopian Jews.
TERENCE LAMUDE (Director) In his native New York City, Terence Lamude directed REMEMBRANCE (Outer Critics Circle nomination) with Milo O'Shea and Frances Sternhagen at the John Houseman Theatre and previously at the Irish Arts Center for a combined run of fourteen months. Also at the IAC, he directed the premiere of AWAY ALONE and the American premieres of POOR BEAST IN THE RAIN, FAMINE and I DO NOT LIKE THEE DOCTOR FELL. Also in NYC: MUSIC FROM DOWN THE HILL at the WPA Theatre, ARMS AND THE MAN at the Pearl Theatre and MUCH ADO ABOUT NOTHING at the Riverside Shakespeare Theatre. He directed THE TEMPEST at the Traverse Theatre for the Edinburgh Festival, subsequently transferring to the Cockpit Theatre in London. For Vienna's English Theatre, he directed SOMEONE WHO'LL WATCH OVER ME and the European premiere of the Pulitzer Prize-winner, PROOF, and for the English Theatre of Berlin and the English Theatre of Frankfurt, the Continental European premiere of LOBBY HERO. He has directed five American premieres and nine premieres, including SOCKDOLOGY by Jeffrey Hatcher at the Alabama Shakespeare Festival and Tom Dudzick's phenomenally successful OVER THE TAVERN Trilogy at Buffalo's Studio Arena and numerous subsequent record-breaking productions across the country all the way to Los Angeles. He has directed extensively at other regional theatres including the Alliance Theatre, American Stage Company, Asolo Theatre, Capital Repertory Theatre, Cincinnati Playhouse, Delaware Theatre Company, Florida Studio Theatre, George Street Playhouse, GeVa Theatre. Merrimack Repertory, Milwaukee Repertory, Nebraska Repertory, Pittsburgh Public Theatre, Repertory Theatre of St. Louis and Sacramento Theatre Company. He has been a guest director/visiting professor at Ohio State University, Rice University, CUNY's Queens College and the North Carolina School of the Arts. After 32 years as a professional director and previously 8 years as a professional actor, Mr. Lamude made his debut as a playwright last spring with the premiere of KINGDOM OF THE SHORE at Capital Repertory Theatre. He is hard at work on his next play. He is a proud member of the Dramatists Guild of America, the Society of Stage Directors and Choreographers and Actors Equity Association. He is a citizen of both the United States and the Republic of Ireland.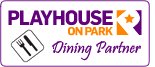 Show your tickets before or after the show at any one
of our dining partners and receive a discount or free offering.