The Mystery of Irma Vep by Charles Ludlam is one of the most produced comedies in US history; named one of 1984's best plays by Time Magazine and the New York Times, it is a tribute to gothic horror films liberally stealing from well known film classics like The Mummy's Curse and Hitchcock's Rebecca. Literary detectives will also recognize dialog lifted from Ibsen, Shakespeare, and Poe.

"Irma" is a tour de force for Sean Harris and Rich Hollman who play all 8 characters racing through a quick change marathon complete with werewolves, vampires and damsels in distress.

Far and away the funniest two hours on a New York stage....What more meaningful gift could Ludlam bequeath [audiences] than to leave them eternally laughing." -The New York Times

Directed by Peter James Cook | Cast Party Photo at Rizzutos


See photos from this production
in our Photo Gallery.

REVIEWS: Htfd Woman Online | Htfd Examiner | CT Wit
SUN

MON

TUE

WED

THU

FRI

SAT

12


13



14



15



16





17


18
7:30pm
(Preview)



19
7:30pm
(Preview)

20
8:00pm
Opening Nite!


21
8:00pm


22
2:00pm




23

24

7:30pm

25
7:30pm


26
7:30pm

27
8:00pm

28
8:00pm

11:30pm late night show - BYOB!

29
2:00pm
SEAN HARRIS is performing for the third time on the POP stage after performing in the Complet Wks of Willm Shakes (Abridged) (Sean) and Art (Yvan) Other Theatres: Florida Studio Theatre, Shakespeare on the Sound, The Pennsylvania Shakespeare Festival, and the Roxy Regional Theatre. His NYC Theatre credits include Dinner with Friends (Tom), Hamlet (Laertes), Much Ado about Nothing (Claudio), and Blood Wedding (Bridegroom). Film/TV: Saturday Night Live, The Early Show, Table One, Captain Karaoke, Being Michael Madsen. Sean has his BA in Acting and Directing from DeSales University and an MFA from the New School for Drama/Actors Studio. He has been an acting teacher and director for over ten years and is currently the Director of Theatre at Hall High School in West Hartford, which was recently selected to represent the United States as part of the American High School Theatre Festival in Edinburgh Scotland.
RICH HOLLMAN (AEA, AFTRA, SAG) completed his MFA in acting in 2004 at New School University and began studying improv at the People's Improv Theater (The PIT) in 2007 where he performs weekly with PIT house team Local 154 and house musical team Hello. Rich has performed off- and off-off Broadway in such theaters as the Cherry Lane, La MaMa Etc., and the Lucille Lortel. He originally earned his Equity card playing the role of Florindo in an off-Broadway production of the classic "The Servant of Two Masters" directed by former NY Shakespeare Festival director Stuart Vaughan. In addition to appearing in several short films and pilots (SF Indiefest, NY Television Festival), Rich has also been seen playing principal roles on "Law and Order" and "As The World Turns" as well as in recurring roles on "Guiding Light" and "All My Children." He's played leads the last two seasons at Playhouse on Park in Hartford, CT under the direction of Drama Desk nominee Tom Ridgely. Also a musician, Rich has recorded instrumental compositons for the educational toy company, Thinkativity, composed theme music for Kevin Allison's (MTV's "The State") ECNY award winning podcast, "Risk!" as well as for numerous theater pieces. He's also done voiceover for Thinkativity as well as the Electric Company on PBS and is a contributor to the Huffington Post. Lastly, he can be seen in several independently made shorts including the provocative "Jean Cut-Off."

PETER JAMES COOK (Director) is a Brooklyn-based director, writer and performer. NYC Directing: Sailor Man (Outstanding Play, NY Int'l Fringe Fest), The Tempest (Green St. Roof), Paula Abdul's Straight Up Vampire (Joe's Pub), Radio Star (Red Room), The Gay Ivy (Dixon Place), The Nosemaker's Apprentice (The Brick), Crabquistador: Scavenger of God (Ars Nova), ROCKBERRY: The Last One Man Show (The Brick),Wasp Cove (Comix), No Direction Homo (P.S. 22), Misgivings (West End Theater). Regional Directing: Go, Dog. Go!, Bluebeard, and Alice in Wonderland (Hangar Theater), G.F. Handel's Semele (Yale College Opera Co). Upcoming: The Mystery of Irma Vep (Playhouse on Park). TV Directing: Stalked (Discovery ID). Assisting: Sam Gold (The Coward, LCT3; Jollyship the Whiz-bang, Ars Nova) and Michael Barakiva (Booksmart). Readings/workshops: EST/Youngblood, Woodshed Collective, Dixon Place, SPACE. Peter is artistic director of Porpentine Theater Co. and a Drama League directing fellow. Peter makes the rent by re-creating crimes, accidents and maladies for basic cable.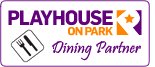 Show your tickets before or after the show at any one
of our dining partners and receive a discount or free offering.


Ticket Info Page | Buy Tickets | Calendar