The strongest one is the one who stands alone.

When Dr. Stockmann makes a poisonous discovery, his brother, the Mayor, begins a war of innuendo and half-truths that threatens to tear their family-and their community-apart.

Arthur Miller wrote his adaptation of Henrik Ibsen's classic play, An Enemy of the People, in response to the political climate fostered by McCarthyism in 1950. Miller asks timeless questions such as: Should the majority always rule? Who is responsible when the majority is wrong? Should a righteous man stand up for truth at any cost or should he compromise for the benefit of his family and his personal well-being? Miller's powerful adaptation is still very relevant today.

Directed by Kyle Fabel




See photos from this production
in our Photo Gallery.
"Playhouse on Park's faithful take on Miller's respectful reworking of Ibsen elicits gasps and knowing laughs from an audience currently mired in the play's thorny issues of poverty, taxation, corruption, corporate greed, party politics, and, surprisingly, environmental havoc."   -- Jacques Lamarre, broadwayworld.com
REVIEWS:
BroadwayWorld.com
|
Htfd Arts Examiner
|
CT Wit blog
|
Journal Inquirer
SUN

MON

TUE

WED

THU

FRI

SAT

13
7:30pm (Preview)

14
8:00pm
(Opening Nite)


15
8:00pm


16
2:00pm
Talk Back with the cast


17





18


19
7:30pm



20
7:30pm


21
8:00pm


22
8:00pm


23
2:00pm




24

25


26
7:30pm


27
7:30pm

28
8:00pm

29
8:00pm

30
2:00pm
MICHAEL MCKENZIE (Peter Stockman) Playhouse on Park: Debut.  Broadway: WAITING IN THE WINGS, THE MAN WHO CAME TO DINNER, EASTERN STANDARD. Off-Broadway- Kari Floren's VOICES OF SWORDS, IF WISHES WERE HORSES, A LATE SUPPER. Tour- The Acting Company: AS YOU LIKE IT, MUCH ADO ABOUT NOTHING, ORCHARDS.  Regional- Connecticut Repertory: Thomas More (A MAN FOR ALL SEASONS); Hartford Stage (THE GUILDED AGE); Denver Center: RM Renfield (DRACULA); Pittsburgh Public: MUCH ADO ABOUT NOTHING, THE LITTLE FOXES, OEDIPUS THE KING; Pioneer Theatre: 12 ANGRY MEN, THE LIGHT IN THE PIAZZA; Capital Repertory: NORA;  TV/Film- Law & Order, Kidnapped, Hack, Chicago Hope, All My Children, One Life to Live, and many episodes of Babylon 5.
JEREMIAH WIGGINS (Dr. Thomas Stockmann) Off-Broadway: FLY (Lincoln Center Institute & The Crossroads Theatre), GOOD MORNING, BILL (Keen Company), AN EXPERIMENT WITH AN AIR PUMP (Manhattan Theatre Club), PATRIOT ACTS (Urban Rock Project/NYC Fringe Festival), AVOW (Cardinal Group NYC) Regional: IN THE NEXT ROOM, OR THE VIBRATOR PLAY (Wilma Theater), DRACULA (Denver Center), THE PAVILION (Dorset Theatre Festival), FABULOSO, SOMETHING IN THE AIR, THE ART OF SACRIFICE (Merrimack Rep.), CANDIDA (Berkshire Theatre Festival), THE RETREAT FROM MOSCOW (Cincinnati Playhouse in the Park), OTHELLO, THE IMPORTANCE OF BEING ERNEST, TARTUFFE (Pioneer Theatre), THE ELEPHANT MAN (Virginia Stage Co.), THE WINTER'S TALE (Shakespeare Theatre Co.), AH, WILDERNESS, THE INVENTION OF LOVE (Guthrie Theater) among others. Film & Television: The Hoax, Welcome to Purgatory, Gravity, As The World Turns, Cashmere Mafia, Tough Crowd with Colin Quinn, & Hack. Training: M.F.A.: NYU Graduate Acting Program.
The production also features COLEEN SCIACCA (shown here) as Catherine, JOSHUA JOHNSON as Aslaksen, BROCK PUTNAM as Kiil, ALLISON LAYMAN as Petra, AARON BARCELO as Hovstad, NICK POLLIFRONE as Billing, and UConn grad MICHAEL HANSON as Horster.  
KYLE FABEL (DIrector)
DIRECTOR:
The Last Five Years
(Playhouse on Park);
No Wake
,
Finian's Rainbow
(Berkshire Theatre Festival);
The Persian Quarter
,
Fabuloso
,
Tranced
,
The Four of Us
,
Trying
(Merrimack Repertory Theatre); Rich Hall's
Campfire Stories
(Edinburgh);
A Small Family Business
,
The Suicide
,
Enrico IV
,
The Ruffian on the Stair
(NYU Graduate Acting Program).  ACTOR:  Broadway: Sorkin's
The Farnsworth Invention
;
A Free Man of Color
(Lincoln Center).  Off-B'way:
The Triangle Factory Project; 
Noel Coward's
Long Island Sound; 
David Ives'
English Made Simple
(Primary Stages).  Regional:
The Farnsworth Invention
,
Private Fittings
( La Jolla Playhouse);
The Alchemist
(Shakespeare Theatre DC);
A Steady Rain
(Hartford Theaterworks);
The Einstein Project
(Berkshire Theatre Festival); Closer,
The Dead Eye Boy
,
Dr. Jekyll and Mr. Hyde
(Cincinnati Playhouse in the Park);
The Taming of the Shrew
(Williamstown Theatre Festival);
Cymbeline
,
Loot
(Hartford Stage Company);
The Last Hurrah
(Huntington Theatre); Kushner's
Hydriotaphia
(Alley Theatre); Rich Hall's
Best Western
(Edinburgh). TV:
Law and Order: Criminal Intent
. MFA NYU.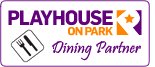 Show your tickets before or after the show at any one
of our dining partners and receive a discount or free offering.