The clashing sounds and pulsing rhythms of New York City underscore this landmark musical, considered by many to have inaugurated the modern era of musical theatre. "Company" follows our anti-hero bachelor Robert as he makes his way through a series of encounters with April (the stewardess), Kathy (the girl who's going to marry someone else), Marta (the "peculiar" one), as well as with his married friends.

On the night of his 35th birthday, confirmed bachelor Robert contemplates his unmarried state. In vignette after hilarious vignette, we are introduced to "those good and crazy people," his married friends, as Robert weighs the pros and cons of married life. In the end, he realizes being alone is "alone, not alive."


Directed and Choreographed by Leslie Unger, Music Direction by Colin Britt

SPECIAL BONUS - Open Mic and Sing-Along! Led by music director Colin Britt, an open mic will follow both the Saturday, December 10th and Saturday, December 17th performances. The open mic/sing-along is free and you do not need to have attended the performance!  (just remember to tip your pianist)   BYOB   Bring your own music or choose from ours; come prepared to sing alone, with the group or just observe and be entertained. Open mic will begin about 10 - 15 minutes after the 8pm performance ends. We will ask all audience members to move to the lobby while we set up and then re-open the doors for entry. Open mic nights at the Playhouse are always a blast - join us!

Photos from West Hartford Patch REVIEWS: BroadwayWorld.com | Journal Inquirer | The Examiner | CT Wit blog

SUN

MON

TUE

WED

THU

FRI

SAT

1
7:30pm (Preview)

2
8:00pm
(Opening Nite)


3
8:00pm


4
2:00pm
Talk Back with the cast


5





6


7
7:30pm



8
7:30pm


9
8:00pm


10


8:00pm

Open Mic following the show

11
2:00pm




12

13


14
7:30pm


15
7:30pm

16
8:00pm

17

8:00pm

Open Mic following the show

18
2:00pm
RYAN SPEAKMAN (Bobby) Playhouse on Park debut! Broadway: CAMELOT (starring Jeremy Irons) Off-Broadway: Lord Shayne (Noel Coward's BITTERSWEET starring BAFTA winner Sian Phillips); Mr. Pinkerton (PINKALICIOUS THE MUSICAL); Sam (WITH GLEE). Regional Favorites: Triarts Playhouse; Curly (OKLAHOMA!); Olney Theatre Center; Lancelot u/s (CAMELOT); Nantucket Dreamland; Captain Von Trapp (THE SOUND OF MUSIC). Education: B. M. Music Theatre, NYU. Look for Ryan as Carter in the upcoming TV series GIRLHATTAN on the new cable channel, Karmaloop TV. www.ryspeaks.com
AMANDA BRUTON (Joanne) Playhouse on Park Debut! Red House Arts Center: Nurse (ROMEO AND JULIET), Heron (CONFERENCE OF THE BIRDS); Adirondack Lakes Summer Theatre Festival: Lycus (FORUM), Bus Driver (VIOLET:THE MUSICAL); New England Shakespeare Festival: Grumio (TAMING OF THE SHREW), Adriana (COMEDY OF ERRORS). Amanda is a Co-Founder and Artistic Director of Spontaneous Shakespeare Players, bringing free Shakespeare to NYC's Central Park as well as educational programming and performances to area schools. BFA:NYU. Love to Kristen, Mom, Dad, and the Fam.
JENNIFER LAUREN BROWN (Amy) Playhouse on Park debut! Lake Dillon Theatre Company: Susan [title of show], Ivoryton Playhouse: Julie (SOME ENCHANTED EVENING), Bristol Valley Theatre: Lynne (A GRAND NIGHT FOR SINGING), NYC Fringe Festival: Sister Mary Francis (POPE,AN EPIC MUSICAL). Jennifer is a Harvard graduate and is living the dream in NYC. Love to her family and friends for their continuous support!



KEVIN BARLOWSKI (Peter) Playhouse on Park: Linus (YOU'RE A GOOD MAN CHARLIE BROWN), MC (THE CLOWNS), Professor (I THINK I CAN), Feature Soloist (THAT HOLIDAY FEELING), Boy (IF YOU GIVE A MOUSE A COOKIE). International credits include: Daniel (THE COMPLETE WORKS…ABRIDGED). New York credits include: Caldwell B. Cladwell (URINETOWN), Lysander, Francis Flute, First Fairy (A MIDSUMMER NIGHT'S DREAM), Ensemble (BROADWAY FOR A NEW AMERICA). Education: Circle in the Square Theatre School. Kevin is a core faculty member at the Greater Hartford Academy of the Arts.

HILLARY EKWALL (Jenny) a West Hartford native and Skidmore College graduate is thrilled to be a part of COMPANY! Previous Playhouse on Park credits include: Sally (YOU'RE A GOOD MAN CHARLIE BROWN), Becky Watkins (I THINK I CAN), SING ON! THE CAROLYN/HILLARY EFFECT, THAT HOLIDAY FEELING, SWING SET, MY SHOW: A CHOREOGRAPHER'S STORY. National Tour: George (CURIOUS GEORGE LIVE! ). Ivoryton Playhouse: Gilmer (GODSPELL), Spirit of Broadway: Jo/Young Alice (ONCE UPON A TIME IN ATLANTIC CITY, American Premier). Thanks to my family and friends for your constant support, encouragement, and love.

ERIK AGLE (Harry) Playhouse on Park debut! Brigham Young University Main Stage: Trevor Graydon (THOROUGHLY MODERN MILLIE), Adam (CHILDREN OF EDEN). Hale Center Theater Orem: Dean Snickets (110 IN THE SHADE, starring Audra McDonald and Will Swenson). BYU Television: Lt. Forrester (BERLIN) B.F.A. Music Dance Theatre from Brigham Young University. Erik is a native of Pittsburgh, Pa. and currently resides in Manhattan with his wife and daughter.

BEN BECKLEY (Larry) Playhouse on Park debut. Berkshire Theatre Festival: THE ILLUSION; The Actors Company: THE COCKTAIL PARTY; Ars Nova: SALAMANDER LEVIATHAN; Flea Theater: 'TWAS THE NIGHT BEFORE, LOS ANGELES, CATO; HERE Arts Center: THE CURSE OF THE SMART KID, WHITE HOT; Prospect Theater Company: OPHELIA: OPERA IN BLUE; Temporary Distortion: WELCOME TO NOWHERE (four international tours); THE ASSEMBLY(company member): HOME/ SICK, THREE SISTERS, CLEMENTINE AND THE CYBER DUCKS. Love to Jess.

BRIAN DETLEFS (Paul) is thrilled to make his Playhouse on Park debut. Brian is a recent BFA program graduate from the University of Miami. His past credits include BAT BOY THE MUSICAL,ROMEO AND JULIET, VIOLET THE MUSICAL, CONFERENCE OF THE BIRDS, LAS MENINAS, and HEDDA GABLER.

VICTORIA THORNSBURY (Susan) Playhouse on Park: THAT HOLIDAY FEELING, SOMETHING COOL THIS WAY COMES, Disney Cruise Lines: Anne Marie (DISNEY DREAMS), Drizella (TWICE CHARMED), Andy (TOY STORY THE MUSICAL), THE GOLDEN MICKEYS,VILLAINS TONIGHT,THE ART OF THE STORY. Metro Stage: Johanna (SWEENEY TODD ); The Company Theatre: Louisa (THE FANTASTICKS) , MISS SAIGON; NYC Assembly Hall: Irca (I NEVER SAW ANOTHER BUTTERFLY). Victoria is so happy to be back in CT with her wonderful fiancée.

Featuring Hartt School students: Scott Caron, Alexandra Cutler, Keisha Gilles, Lea Nardi and Meredith Swanson.

LESLIE UNGER (Director/Choreographer) AEA Is thrilled to be making her directorial debut at Playhouse on Park! Living 10 years in Europe where she was the resident choreographer for TOYS MUSICAL PRODUCTIONS-Germany. Performing in the European tour of CATS. Assistant to the Choreographer, and resident artistic director to the European world premier of LORD OF THE RINGS. Founding director of the dance/martial arts studio in Berlin, X-STEP STUDIOS. U S Directorial credits include: EVITA,YOUR A GOOD MAN CHARLIE BROWN, LITTLE SHOP OF HORRORS, SOME ENCHANTED EVENING. Choreography credits include: THE MIKADO, FORUM, ALL SHOOK UP, BYE BYE BIRDIE, TITANIC, SUMMER OF 42, SOUND OF MUSIC and many others. Trained and also a staff member at Lou Conte Dance Studios/Hubbard Street Dance Chicago. Leslie is currently on faculty at the Hartt School. Her creative direction includes industrial,master classes, commercial,film, and fashion videos in the U S and Europe. www.leslieunger.com
COLIN BRITT (Musical Director) is excited to return for his seventh Playhouse on Park production. Previous music direction credits include CHICAGO, THE LAST FIVE YEARS, and co-music-directing SIDE BY SIDE BY SONDHEIM at Playhouse, SINGIN' IN THE RAIN with West Hartford Summer Arts Festival, PETER PAN with Summer Place Players, and SWEENEY TODD, JOSEPH...DREAMCOAT, FIDDLER ON THE ROOF and THE SCARLET PIMPERNEL at various theaters in his home state of Maine. Colin holds a Bachelor's degree in music composition from the Hartt School and a Master's in choral conducting from Yale University. A versatile pianist, he has worked as a staff accompanist at the Hartt School, the Connecticut Children's Chorus, and for several public school choirs in the Hartford area. His compositions have been performed by ensembles at Westminster Choir College, Hartt, Yale, and throughout the state, including the Hartt Chorale, the Hartt Symphony Orchestra, the Yale Schola Cantorum, and the Greater Middletown Chorale. He currently serves on the adjunct conducting faculty at Hartt, as director of music at Marquand Chapel at Yale, as the assistant conductor of the Hartford Chorale, and as the assistant music director at the Cathedral of St. Joseph in Hartford.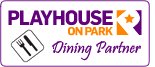 Show your tickets before or after the show at any one
of our dining partners and receive a discount or free offering.