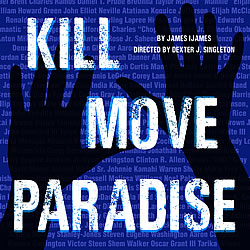 James Ijames' New York Times Critics Pick play KILL MOVE PARADISE tells the story of Isa, Daz, Grif and Tiny, four black men who find themselves stuck in a cosmic waiting room in the afterlife. This play, inspired by the ever-growing list of slain unarmed black men and women, is a portrait of those lost—not as statistics, but as heroes who deserve to be seen for the splendid beings they are, and as symbols of life and hope. Gone but never forgotten, Kill Move Paradise illustrates the possibilities of collective transformation and radical acts of joy.
"Bleak and beautiful… radiates an urgent and hypnotic theatrical energy."
The New York Times
"Theater is at its most effective when it brings people together, moves us, challenges us,
and makes us see the unseen. "Kill Move Paradise" [does] precisely that."
Chicago Tribune
"...KILL MOVE PARADISE is bold, conceptual, living theater, demanding to be heard. Ijames is a vital voice in our politically seditious and most perilous time. It is also profoundly
poetic in its dialogue and characters."
CultureVulture.net
---
*Subject to change