2020-2021 Season 12: Plays & Musicals

---
FROM THE CO-FOUNDERS
IMPORTANT UPDATE ON SEASON 12 PROGRAMMING

Dear Playhouse Subscribers and Patrons,

We want to update you on our next production in the Main Stage Series. We were originally scheduled to produce Chicago (Book by Fred Ebb and Bob Fosse; Music by John Kander, Lyrics by Fred Ebb) from January 20th through February 21st. We must postpone this production to a future season, to be determined.

Unfortunately, with the spike in Covid cases, we do not feel comfortable bringing such a large cast and band together for a show that requires singing, dancing and intermingling in very close proximity. We also were not granted permission to film this production, so we could not provide an option for those who would like to watch from the safety of their own home. We cannot choose a new date at this time due to logistics that the licensing company is working through with regards to the National Tour.

Therefore, at this time, for all Season 12 ticket holders, Chicago will be replaced with a new production (per our disclaimer that all productions throughout this season are subject to change). We are beyond excited to announce: "ELYOT AND AMANDA: ALL ALONE from Noel Coward's Private Lives" starring Veanne Cox and Ezra Barnes. It will be available to stream online from February 10th through February 28th.

More details about the show and how to watch will be available soon.

Thank you for your understanding and continued support.

Best regards,
Tracy Flater, Sean Harris and Darlene Zoller
---
September 16 - October 4, 2020
Extended through October 11th!
KENNEDY: BOBBY'S LAST CRUSADE
by David Arrow
Directed by Eric Nightengale
This production will be stream only.

December 16, 2020 - January 10, 2021
*Extended to January 10*
ALL IS CALM: THE CHRISTMAS TRUCE OF 1914
by Peter Rothstein with musical arrangements by Erick Lichte
and Timothy C. Takach
Directed by Sasha Brätt
This production will be stream only.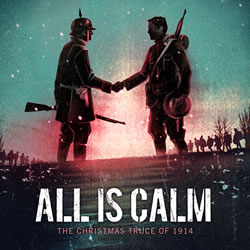 A remarkable true story from the Western Front. All is Calm: The Christmas Truce of 1914 relives an astounding moment in history; in a silence amid the combat, a soldier steps into no man's land singing "Silent Night." Thus begins an extraordinary night of camaraderie between the Allied troops and German soldiers. They lay down their arms to celebrate the holiday, share food and drink, play soccer, and sing carols. This dramatic retelling weaves together firsthand accounts of World War I soldiers with patriotic tunes, trench songs, and Christmas carols.
"... When [the voices] come together, the sensation is tremendous and the musical chill effect engulfing...The show is a lesson...in music as a vehicle for emotion."
The New York Times
"A heartbreaking tribute to the men, who, in defiance of their commanders
had the courage to affirm their common humanity."
The New Yorker
---
James Ijames' New York Times Critics Pick play KILL MOVE PARADISE tells the story of Isa, Daz, Grif and Tiny, four black men who find themselves stuck in a cosmic waiting room in the afterlife. This play, inspired by the ever-growing list of slain unarmed black men and women, is a portrait of those lost—not as statistics, but as heroes who deserve to be seen for the splendid beings they are, and as symbols of life and hope. Gone but never forgotten, Kill Move Paradise illustrates the possibilities of collective transformation and radical acts of joy.
"Bleak and beautiful… radiates an urgent and hypnotic theatrical energy."
The New York Times
"Theater is at its most effective when it brings people together, moves us, challenges us,
and makes us see the unseen. "Kill Move Paradise" [does] precisely that."
Chicago Tribune
"...KILL MOVE PARADISE is bold, conceptual, living theater, demanding to be heard. Ijames is a vital voice in our politically seditious and most perilous time. It is also profoundly
poetic in its dialogue and characters."
CultureVulture.net
---
*Subject to change