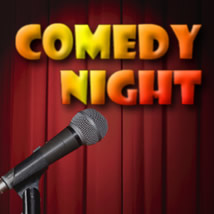 Hartford Courant: Playhouse on Park makes the list as a "reliable local" for Comedy Night!
BEST OF CT: We've been named one of the
10 Best Comedy Clubs in CT 2023 - Read about it here.
SPECIAL COMEDY EVENT ON OCTOBER 3, 2023 - Click for details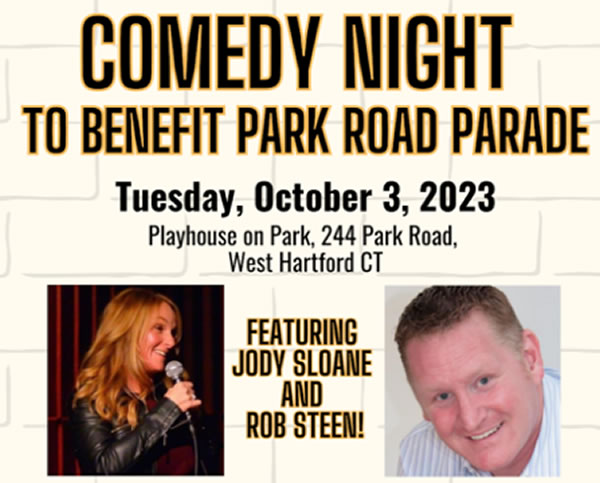 COMEDY NIGHT DATES FOR SEASON 15
September 16th, 2023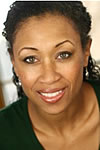 Leighann Lord (Co-Headliner) is a seasoned standup comedian who has appeared on HBO, Comedy Central, The View, and Showtime's Even More Funny Women of a Certain Age. She's performed for the troops in the Middle East and her Dry Bar comedy special has had over one million views. Leighann is the author of several humor books including: Dict Jokes and Real Women Do it Standing Up and is the emcee of the prestigious Erma Bombeck Writers' Workshop.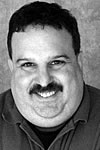 Irwin Loring (Co-Headliner) It all began when he was 16 years old watching an HBO comedy special featuring David Brenner , he wanted to be a comedian. On a Friday night in November 2006 in Rockville, Maryland, Irwin began to act on that dream. He finally took the stage for the first time. Since then, he has been on stage hundreds of times. He has performed in comedy clubs, bars, and even at his own high school reunion.
His comedy revolves around his family, relationships, religion, and society in general. He was raised in a farming community in upstate New York, by a single Jewish mother household. He blames his mother for his bizarre views on parenting, and his overall outlook on life. He brings an energy to the room that makes audiences laugh wherever he performs. His style can be described as a mix of David Brenner and George Carlin, with a touch of Don Rickles.

November 4th, 2023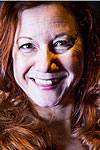 Carole Montgomery (Co-Headliner) has had a long and varied career. With over two dozen television credits to her name, Carole Montgomery is a respected veteran of the standup comedy scene nationwide. In addition to her numerous television appearances, Carole Montgomery has headlined clubs and colleges across the USA and starred in two different Las Vegas production shows. In her ten years as a LAS VEGAS STAR, she was seen by over five million audience members. Carole Montgomery created and stars in three SHOWTIME specials for Funny Women Of A Certain Age.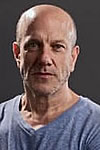 Tom Daddario (Co-Headliner) has a half hour special on Sirius/ XM radio. Seen on Comedy Centrals "Michael and Michael Have Issues" Has a feature film coming out this year called Pancakes & Syrup Has been featured in the New York Times and Daily News. A regular at The Borgata in Atlantic and the Hard Rock Casino. The Laugh Factory in Las Vegas.
January 6th, 2024

Peaches Rodriquez (Co-Headliner)is a regular in Atlantic City and Las Vegas; she's appeared on CBS's Paula Abdul show, has been invited to perform at the world famous Apollo Theater, and was asked to speak at Yale University's "Women in Comedy" panel, quite an honor! She is a firecracker guaranteed to make the crowd explode with laughter!
● Opens for Arsenio Hall at Caesars in Atlantic City.
● Shared the stage with Jerry Seinfeld at Gotham Comedy club.
● Headliner Carolines comedy club.
● Regular monthly show at Comic strip live!
● Just danced in a video for Elton John's farewell yellow brick road tour.
● Hosted the world's largest dance battle on Times Square www.peachesrodriquez.com and www.dancecomic.com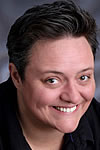 Jess Miller (Co-Headliner) Using her own life as her bedrock, Jess has built an act that shows the humor in every aspect of life. Her fresh and friendly presence on stage makes her appealing to audience members from every walk of life. Her quick wit, ability to connect with the crowd and her on-the-fly creativity enables her to manipulate her material from an "every day girl" to brash and bawdy and back seemingly effortlessly. Her brand of comedy is a brilliant and fluid creation unto itself and it never fails to fill the seats wherever she appears. Jess has performed at the Women in Comedy Festival, Boston Comedy Chicks, won the Ladies Room Comedy Festival, was a finalist at the Devil Cup Comedy Festival, Big Pine Comedy Festival, She Devil Contest and has worked all over the country at clubs such as Caroline's, Broadway Comedy Club, Crackers, Off-the-Hook, Funnybone, The Coming Strip, The Punchline, Laugh's Unlimited, The Comedy Factory Hollywood and many more. She recently headlined The No Nuts Comedy Tour which toured the country.

March 30th, 2024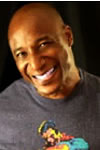 Chris Tabb (Co-Headliner) Usually described as "high octane," his performance continually switches between observational, physical and theatrical. Honing his craft in the comedy rich Boston, MA, for over 15 years Chris has followed his dreams and his passion to create his own brand of humor which he simply describes as "everyone is included in the fun.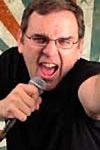 Mike Hanley (Co-Headliner) Mike Hanley's unique style of high energy, full tilt comedy has left audiences all over erupting in laughter. Mike has an unique and hilarious take and perspective on life. If you are married you will laugh at Mike's hysterical stories. If you are single you will want to stay that way for the rest of your life. From relationships to kids to the day to day grind, he has a story that will be sure to have you on the edge of your seat. There is no mistaking Mike's trademark intensity the minute he hits the stage. Mike can be heard on Sirius/XM and can be seen on YouTube with his viral video that has over 24 million views. He also appeared on the Funniest Comedians in Boston Special on CBS. Mike started his comedy career by winning "Funniest Person on Campus" at UCONN and went on to win many more contests including "The Catch a New Rising Star" and "Next Big Thing". Mike is now a fan favorite across the region by headlining weekends at clubs all over at venues such as the Comedy Scene, Catch a Rising Star, Golden Nugget Casino, Foxwoods and Mohegan Sun. He has also been the opening act in clubs and theaters for Kevin Nealon, Jim Breuer, Jay Mohr, Tom Arnold, David Alan Grier, Harland Williams, David Koechner and Jessica Kirson.
June 22nd, 2024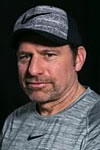 Paul Nardizzi (Co-Headliner) began his comedy career in 1990, quickly becoming a Boston area favorite and a national headliner within four years. He is now one of the top stand up comedians in Boston and the New England Area, and is known nationally for his rapid-fire comedy style. In addition to his work as a standup comedian, Paul is also the published author of the comedy books 602 Reasons to Be Pissed Off and 602 Reasons to Be Ticked Off, which are available in major bookstores. He has compiled two humor CDs entitled Sucking a Cow's Udder During a Solar Eclipse and Live at the Music Hall. Paul's show is also available on the DVD Paul Nardizzi — Live From the Comedy Connection.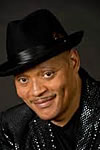 Kevin Lee (Co-Headliner) If ever there was a comedian/ magician to be seen, it is Kevin Lee. Kevin's unique combination of comedy, magic and juggling leaves audiences both in awe and in stitches. Lee, has appeared on all of the national television stations on shows such as "Showtime at the Apollo", HBO's "Def Comedy Jam", and Jamie Foxx's "Uptown Comedy Club", to name a few. Lee was also voted "Washington DC's Funniest Comedian" by Washingtonian Magazine.
Kevin's stage career began at The Comedy Cafe in Washington DC where he placed first in the very first comedy competition he ever entered. After a quick stint as a Street Entertainer in DC, Lee moved to Venice Beach, CA, the Mecca of street performers. It was there that Kevin honed his craft, building his repertoire of comedy, magic and juggling to audiences of all ages and walks of life. While in California, Lee became a regular at the world's famous Comedy Store.
Lee has also been seen on five seasons of BET's "Comic View" and his distinctive skills have allowed him to share the stage with legends such as Gladys Knight, Chris Rock, Steve Harvey, Whitney Houston, Chris Tucker and Sinbad. He performed for the troops in Saudi Arabia during Desert Storm and continues to entertain military bases around the world today, including Korea, Germany, Italy and Japan. Wynton Marsalis featured Lee in his "The Magic Hour Tour" which sold out from New York to Los Angeles in 2004. Lee, a high-energy, one-of-a-kind performer has brought audiences to their feet worldwide. A rare and true talent, Kevin Lee is not to be missed.