Cast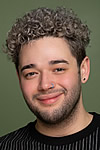 Lu DeJesus (Actor 1) Connecticut Repertory Theatre: Beadle Bamford SWEENEY TODD: THE DEMON BARBER OF FLEET STREET. WCSU: Pinky OUR LADY OF 121ST STREET; Larry COMPANY; Mitch Mahoney THE 25TH ANNUAL PUTNAM COUNTY SPELLING BEE.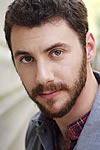 Michael Hinton (Actor 3) Playhouse on Park: MOON FOR THE MISBEGOTTEN. Regional: Elm Shakespeare Company; Ivoryton Playhouse; Eugene O'Neill Theatre Center; New York: Hip to Hip Theatre; UK: Tobacco Factory Theatre. MA:The Bristol Old Vic Theatre School. www.MichaelHintonActor.com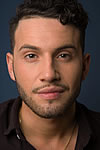 Niko Touros - (Actor 2) Playhouse on Park: Usnavi IN THE HEIGHTS. Other credits include: CELEBRITY CRUISES, Crutchie NEWSIES, Reggie et. al FIRST DATE, Sky MAMMA MIA!, Favorite quote: "Keep your eyes on the stars & your feet on the ground. You can do this." Instagram: nt0uros

Singers:
| | |
| --- | --- |
| | |
| Kevin J. Andersen | Evan Benjamin |
| | |
| Matthew Bridgeman | Spencer Hamlin |
| | |
| Alex Hunt | Ryan Mancini |
| | |
| Michael McAvaney | Zach Reggio |
| | |
| Jermaine Woodard, Jr. | |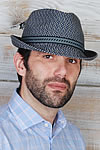 Sasha Brätt (Director) Playhouse on Park: TUESDAYS WITH MORRIE, THE REVISIONIST, THE DINING ROOM, and OTHELLO, Director of New Works; Director or Assistant Director: Woolly Mammoth Theater Company, Folger Shakespeare Theatre, Shakespeare and Company, Ivoryton Playhouse, Seven Angels Theatre.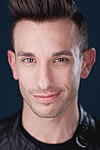 Benjamin Rauch - (Music Director) leads a multi-faceted career as a countertenor including singing soprano with the GRAMMY® award winning ensemble Chanticleer) conductor, composer, and educator. Faculty at The Hartt School and directs the Hartt Choir and Chorale.
Mollie Cook (Stage Manager) is currently serving as the resident stage manager at Playhouse on Park, but has worn many hats here over the years. Select Playhouse credits include METAMORPHOSES (SM), CABARET (ASM), HAIR (PSM), TUESDAYS WITH MORRIE (PSM, PASSING STRANGE (PSM), IF YOU GIVE A MOUSE A COOKIE (ASM & Mouse's Reflection), MURDER FOR TWO (PSM), TENDERLY: THE ROSEMARY CLOONEY MUSICAL (PSM). Mollie holds a BA in Theater from the University of Massachusetts Amherst and continues her studies by learning from every artist that passes through the Playhouse doors. Tweet me @mmollieclaire !!
Johann Fitzpatrick (Technical Director, Scenic Designer, Lighting Designer): Johann wears several hats at Playhouse on Park. Recent designs include lights for THE SCOTTSBORO BOYS, TENDERLY, PRIDE AND PREJUDICE, THE SANTALAND DIARIES and set design for NUNSENSE. He also serves as the theatre's Technical Director and Master Electrician. Design credits outside Playhouse on Park include two seasons with the Wexford Festival Opera and a slew of work in Dublin, Ireland. He holds an MFA in Stage Design from Trinity College, Dublin. Find more of his work at johanntheatre.com.
Eileen Oconnnor (Properties and Set Dressing) Eileen is delighted to return to Playhouse on Park as Season 12 resident Props Master. She has been responsible for properties and set dressing on over 20 productions including: TENDERLY, THE ROSEMARY CLOONEY MUSICAL,THE SCOTTSBORO BOYS,THE REVOLUTIONISTS, IN THE HEIGHTS, INTIMATE APPAREL, THE DIAIRY OF ANNE FRANK, THE CHOSEN. For young audiences: MERRILY MANNERLY, ELEPHANT AND PIGGIE, CAT IN THE HAT. On stage performance: stop/time dance theater: SUPERSTITION. Retired from a successful career in Public Health, Eileen is very grateful to Darlene for helping launch her second act. In the off-season, Eileen can be found at the Jersey Shore.
Jennifer Scapetis-Tycer (Dialect Coach) Jennifer has coached many Playhouse on Park productions, including A SHAYNA MAIDEL,THE SCOTTSBORRO BOYS, MY NAME IS ASHER LEV, INTIMATE APPAREL, LAST TRAIN TO NIBROC, A MOON FOR THE MISBEGOTTEN, and I HATE HAMLET. Jennifer teaches on the MFA and BFA programs at UConn and coaches for Connecticut Repertory Theatre.
All Is Calm - Creators
Peter Rothstein (Writer) has directed 72 mainstage productions for Theater Latté Da, including 11 world premieres. Other recent collaborations include the Guthrie Theater, the Children's Theater Company, Minnesota Opera, the Illusion Theater, Ten Thousand Things, Minnesota Orchestra, Utah Shakespeare Festival, Seattle's 5th Avenue Theater, and Asolo Rep. He is the creator of All is Calm: The Christmas Truce of 1914 and Steerage Song, a docu-musical created in collaboration with Dan Chouinard. Peter was named the 2015 Artist of the Year by the Star Tribune, Theater Artist of the Year by Lavender, and Best Director by City Pages. He has received nine Ivey Awards and has been awarded grants and fellowships from the National Endowment for the Arts, Theatre Communications Group, the Minnesota State Arts Board and the McKnight Foundation. He holds a B. A. in Music and Theater from St. John's University and a Master of Fine Arts in Directing from the University of Wisconsin-Madison.
Timothy C. Takach (Music) Reviewed as "gorgeous" Washington Post and "stunning" Lawrence Journal-World, the music of Timothy C. Takach is rapidly gaining momentum in the concert world. Applauded for his melodic lines and rich, intriguing harmonies, Takach is a full-time composer and has received a number of commissions from various organizations including VocalEssence, the St. Olaf Band, Cantus, Pavia Winds, cellist Kirsten Whitson, Lorelei, The Rose Ensemble and the University of Notre Dame DeBartolo Performing Arts Center. His compositions have been performed on A Prairie Home Companion, The Boston Pops holiday tour, multiple All-State and festival programs and at venues such as the Library of Congress, Kennedy Center and Royal Opera House Muscat. Takach has been awarded grants from the American Composers Forum, Metropolitan Regional Arts Council, and the Minnesota State Arts Board and Meet the Composer, and yearly ASCAP awards since 2004. He studied Music Theory and Composition at St. Olaf College, Northfield, MN, where he graduated with honors. Takach lives in Minneapolis with his wife and two sons.
Erick Lichte (Vocal Arrangements) has been hailed by Washington Post for the "audacity" of his programming and noted by the Chicago Tribune for the "meticulous preparation" of his choirs. Fanfare Magazine declared that he created and helmed "the premier men's vocal ensemble in the United States."
As a founding member, singer and Artistic Director of the male vocal ensemble Cantus, Lichte created and sustained one of only two full-time vocal ensembles in the United States. His work with Cantus garnered the 2009 Margaret Hillis Award for Choral Excellence, the highest honour from the professional choral organization Chorus America.
In January 2013, he began his tenure as Artistic Director of Vancouver BC's Chor Leoni Men's Choir, one of the most active and popular amateur choirs in North America. His first recording with Chor Leoni, Wandering Heart, received a perfect five-star review from the UK's prestigious Choir and Organ Magazine, and Oregon Arts Watch has declared that, under his leadership, Chor Leoni is now "one of the best male choirs on the continent."