COMEDY NIGHT AT THE PLAYHOUSE

IMPROV AT THE PLAYHOUSE

IMPROV: CT Cage Match Series

Schedule:

October 12 - Hole In The Wall
November 23 - Playhouse On Park
December 14 - Hole In The Wall
February 8 - Hole In The Wall
April 5 - Playhouse On Park
May 17 - Playhouse On Park

IMPROVAGANZA

Feb 22 and 23

SATURDAY, SEPTEMBER 15, 2012
8:00PM All Seats Reserved $15
Doors open at 7:30pm, show starts at 8:00pm.
BYOB 
VINNIE MARK (HEADLINER) has been performing comedy and magic for the past 20 years. He began his career in an Improv Group called "The Laughter Company" with Bob Nelson and Rosie O'Donnell. He then went on to be a solo performer and has appeared on "Late Night With David Letterman", "Comedy on the Road", and "VH-I Stand-Up Spotlight". He has opened for Kevin James, Ray Romano, Gilbert Godfried, Dennis Wolfberg, Brett Butler, Crosby Stills & Nash, Rodney Dangerfield and many others. Vinnie has appeared in Las Vegas at the MGM, Reno at the Silver Legacy, and Atlantic City at the Tropicana and the Borgata.

He also performed for Caesars Resorts for many years…For the past 6 years he has been a regular on cruise ships, such as Norweigian, Princess, and Royal Caribbean Int'l and Disney.

Vinnie Mark's best trick is to change traditional magic into non-stop laughs before your very eyes. Mark delivers joke after joke, gag after gag, and leaves audiences on their feet with a real live straightjacket escape! Las Vegas slick and Sunday School proper, alchemist Mark transforms audience participation, one liners and a few surprises into pure platinum.


JODI WEINER (Middle Act) A stand-up comedian, Jodi's likeability and cuddly persona could defrost the most difficult of audiences. She has appeared nationally at the The Funny Bones, Punchlines, Caesars Resorts, Catch a Rising Star, Stand-up New York, Gotham Comedy Club, Carolines, The Borgata Casino in Atlantic Cityand The Riviera in Las Vegas, and many other venues. "I love the way she talks, don't you?!" - Joy Behar, ABC - The View

Jodi has entertained the troops in Guantanamo Bay, Cuba on two occasions and has performed world wide at other military bases as well. She just returned in April 2006 from entertaining the troops in Iraq. Her television appearances include: Lifetime "Girls Nite Out", "America's Funniest People", "She's So Funny" and "New Joke City" with Robert Klein, on which she had a featured documentary. She has also made two appearances on "ABC's" "The View", and "Comedy Central", she was also featured in "Mode Magazine" in the "Mode Matters Section". Jodi's infectious giggle and sweet smile delights all audiences. An act not to be missed!

SANDY EHLERS (Emcee), a native of Hoboken, NJ has been making great strides in the comedy industry for the past decade. Her credits include ABC's The View with Joy Behar and Jane Hanson's NY. She has a one woman show called "Brassy, Sassy, & Gassy" which will premiere in fall of this year in New York City.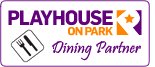 Show your tickets before or after the show at any one
of our dining partners and receive a discount or free offering.