COMEDY NIGHT AT THE PLAYHOUSE

IMPROV AT THE PLAYHOUSE

IMPROV: CT Cage Match Series

Schedule:

October 12 - Hole In The Wall
November 23 - Playhouse On Park
December 14 - Hole In The Wall
February 8 - Hole In The Wall
April 5 - Playhouse On Park
May 17 - Playhouse On Park

IMPROVAGANZA

Feb 22 and 23

SATURDAY, JANUARY 12, 2013
8:00PM All Seats Reserved $15
Doors open at 7:30pm, show starts at 8:00pm.
BYOB 
MIKE KOUTROBIS (HEADLINER)

As an entertainer for the past 25 years, Mike has seen it all. He began his comedy career at Stitches Comedy Club in Boston in 1993. His comedy style combines a witty, yet sarcastic commentary on interesting people he has met in his travels, his life growing up in an occasionally dysfunctional family and the difficulties of being a man. Mike is a regular at clubs and colleges all across New England and New York; opening for such performers as Harland Williams, Bob Nelson, Lenny Clarke and Robert Kelly. As well as performing on the comedy circuit, Mike fills his days as a wedding DJ, musician, MMA Ring Announcer, Actor and Host/MC for many events throughout the area His high energy and physical antics make Mike a highly sought after performer in the Northeast!

STEVE SCARFO (Middle Act) began the stand-up life back in 1996 and was noticed by The Boston Globe at his first performance. His high energy, real life approach to material coupled with his sometimes bizarre viewpoint is sure to strike a chord in any audience and keep them in stitches. He has worked all over New England, including Comedy Connection in Portland, and Nicks Comedy Stop in Boston. Steve has opened for many quality acts – including: Dave Coulier, Victoria Jackson, Jeff Dunham, Lenny Clarke and Bob Marley. Steve also appeared in the A&E real life drama 'Caesars 24 / 7', figured prominently in the Red Sox World Series MasterCard commercial, and appears in several movies (most notably "Fever Pitch" and "The Pink Panther 2").

KYLE CRAWFORD (Emcee) Born and raised in southern New Hampshire gives Kyle Crawford an everyman's view. His tongue in cheek observational humor, with a slight twist is easy to relate to and fun to be a part of. With his quick wit, and broad range of subject matter, he's sure to please everyone.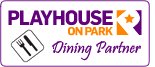 Show your tickets before or after the show at any one
of our dining partners and receive a discount or free offering.