COMEDY NIGHT AT THE PLAYHOUSE

IMPROV AT THE PLAYHOUSE

IMPROV: CT Cage Match Series

Schedule:

October 12 - Hole In The Wall
November 23 - Playhouse On Park
December 14 - Hole In The Wall
February 8 - Hole In The Wall
April 5 - Playhouse On Park
May 17 - Playhouse On Park

IMPROVAGANZA

Feb 22 and 23

SATURDAY, MAY 18, 2013
8:00PM All Seats Reserved $15
Doors open at 7:30pm, show starts at 8:00pm.
BYOB 
Billy Winn (HEADLINER)

A native of Stratford and a longtime Milford resident, Winn has performed on A&E, on VH1 and on Rosie O'Donnell's stand-up comedy show. He's also opened for acts such as the Four Tops, Chicago and Huey Lewis and the News. In addition, he's been a longtime radio sidekick on WPLR (99.1 FM), first for the morning show, and then for their successors, Chaz and AJ.




CAROLYN PLUMMER (Middle Act)

God help us. Some comics rely on the monumental events of the day or the faux pas of the rich and famous. Not Carolyn. Carolyn pulls material from the hum-drum, day-to-day monotony of the life of everyman. And she does it well. To Carolyn the monumental is easy…it's our existence that's so hard, yet so ridiculous. Some women look in the mirror and complain because they aren't pretty enough, not rich enough, not young enough. Carolyn gives her reflection the finger. The third child of a Congregational Minister and an "aloof" home maker mother; "aloof"? She's clueless; her favorite band is Blootie and the Hoefish." C.P. Carolyn learned early on that she could lament or she could make fun. See her once and you'll quickly figure out which path she chose. And you'll laugh. Possessing an uncanny ability to introspectively pull from places most of us hide, Carolyn puts a nail through the heart of whiners, self-loathers and the self-sorry of the world and makes the average seem hilarious and larger than life. Most of all, Carolyn's twisted perception of our common existence leaves audiences hysterically shaking heads in agreement with her assessment that the world is indeed a very funny place.

VINNIE PAGANO (Host)

is a Connecticut native and has been performing for 7 years. He plays clubs and private functions throughout the Northeast.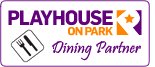 Show your tickets before or after the show at any one
of our dining partners and receive a discount or free offering.