Subscribe! Buy all 6 Comedy Nights and you'll get one free! Contact the Box Office (860-529-5300 Ext. 10)

SATURDAY, NOVEMBER 1, 2014
8:00PM All Seats Reserved $15
Doors open at 7:30pm, show starts at 8:00pm.
BYOB 
DEBRA COLE (HEADLINER)

I'm a southern liberal feminist mother born on April Fools' Day. My mother was an English teacher and my father a redneck. So I spent a lot of time listening to NPR while watching my dad fix the car on blocks. I had to leave my hometown since there was only Walmart, church, and bacon. My allergies are ragweed and political correctness. Anxiety medication keeps me trim. And in terms of religion, I believe in Fried Chicken and Yo Yo Ma. Red is my favorite color. And I like to laugh and drink whiskey.

VICKY KUPERMAN (Middle Act) is a Moscow-born Boston native, New York City rat-packer and recently named "one of 12 new comedians to watch" on The Huffington Post. Alternately described as "fierce," "fearless" and "ferociously funny," Vicky has performed at countless festivals nationwide, including the renowned Boston Comedy Festival (where, in 2012, she was a finalist—one of only four women to have reached that round in the festival's 13-year history). She has been featured on The Maxim Comedy Showcase, on NickMom TV, Sirius Satellite Radio & Comcast and was presented by comedy legend David Brenner on several shows as part of his tour "David Brenner Presents: Comedy Stars of Tomorrow." In 2012, she launched her own line of e-greetings with "Off the Boat Greetings."


CHRISTINA THOMAS (Emcee) Between being in the military, being lesbian, wearing hearing aids, having OCD, ADHD and being a recovering addict, Christina decided it was time to try comedy because she had a lot of material to talk about. After years of making her co-workers laugh at the lunch table, Christina decided to take the stage in 2008 and became a semi-finalist in the Catch a New Rising Star Competition at Twin River Casino. From there, she has performed at clubs and venues all over New England to include Comedy Connection, COMIX at Foxwoods, Twin River and Mohegan Sun. Christina was a semi-finalist in the 2011 Rhode Island Comic Throw down. She was also chosen by Tree House Comedy Productions to perform in the Funniest Comic in New England Contest in 2012.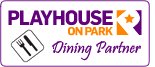 Show your tickets before or after the show at any one
of our dining partners and receive a discount or free offering.