Subscribe! Buy all 6 Comedy Nights and you'll get one free! Contact the Box Office (860-529-5300 Ext. 10)

SATURDAY, MAY 16, 2015
8:00PM All Seats Reserved $15
Doors open at 7:30pm, show starts at 8:00pm.
BYOB 
CHRISTINE HURLEY(HEADLINER) loves what she does…making people laugh! Married to Jimmy Hurley and having five kids, Christine is never at a loss for comedic material. Like any great comedian, Christine has an innate ability to see humor in "everyday" situations. For years, she entertained family, friends and neighbors in their kitchens, at barbeques and the grocery store aisles. The only difference now is she uses a microphone and a stage.

Christine's maiden voyage into the world of stand up comedy was an open audition in New York City. The television network Nick at Nite was looking for "AMERICA'S FUNNIEST MOM." She figured if it didn't go well, no one in New York would have known who she was anyway… Turns out it went well! Out of thousands of entries, Christine was selected to be a finalist on the nationally televised show. The producers of the show included Carol Leifer (Seinfeld show producer), Jeff Singer (talent scout, Montreal Comedy Festival), Jeffrey Ross (Comedy Central roast master) and actress Sandra Bernhardt. [website]
TOM STEWART (Middle Act) After 20 years of working on radio and television, Tom Stewart has taken his comedic voice to the stage. Over the past 5 years, he has been one of the hardest working comedians in the Northeast and has quickly become a crowd favorite. In 2013 he was a finalist in the New England's Got Talent competition.


BARBARA JURGELAS (Emcee) Barbara has been in the stand up biz since 1985. She has worked with Ray Romano, Gallagher, and Jimmy "JJ" Walker and for the past five years has booked our comedy nights here at the Playhouse.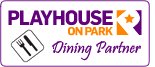 Show your tickets before or after the show at any one
of our dining partners and receive a discount or free offering.