SIDE BY SIDE BY SONDHEIM
Music by Stephen Sondheim,
Jule Styne, Richard Rodgers and
Mary Rodgers
Lyrics by Stephen Sondheim
Continuity by Ned Sherrin
September 8 - 19, 2010

BRIGHTON BEACH MEMOIRS
by Neil Simon
November 10 - 21, 2010

ART
by Yasmina Reza
translated by Christopher Hampton
January 12 - 23, 2011

THE SCARLET LETTER
by Nathaniel Hawthorne
March 9 - 20, 2011

THE COMEDY OF ERRORS
by William Shakespeare
April 6 - 17, 2011
REGIONAL PREMIERE!

A vivid and moving adaptation of Nathaniel Hawthorne's renowned novel, This tale of adultery, guilt, and revenge is set in colonial Massachusetts in the mid-17th century, dealing with the universal question of sexual repression and inner turmoil. This brand new adaptation of THE SCARLET LETTER basks in the grand language of Hawthorne, a master wordsmith that actors and audiences will rediscover and fall in love with. His splendid language brings to the stage a nobility and musicality reminiscent of Shakespeare.

Directed by Tony Award Winner Stuart Vaughan



See photos from this production
in our Photo Gallery.
SUN

MON

TUE

WED

THU

FRI

SAT

10
7:30pm (Opening Nite)

11
8:00pm
.

12
8:00pm
.

13
2:00pm
Talk Back with the cast


14





15


16



17
7:30pm


18
8:00pm


19
8:00pm


20
2:00pm



STUART VAUGHAN* (Director) and his New Globe Theatre, Inc. produced this adaptation of The Scarlet Letter with its thee current principal actors to good reviews Off-Broadway in 2007. Playhouse on Park is presenting the play's regional theatre premiere. As well as founding The New Globe Theatre, Inc., which began as a repertory theatre touring the classics and has recently produced The Servant of Two Masters, The Scarlet Letter, I Knock at the Door, and Pictures in the Hallway Off-Broadway, Vaughan was founding Artistic Director of The New York Shakespeare Festival (Joseph Papp, Producer), Artistic Director of New York's Famed Phoenix Theatre, and founding Artistic Director of The Seattle Repertory Theatre and Repertory Theatre New orleans. He came to New York in the fall of 1946 at age 21 and was cast in his first Equity acting job at the end of his first week in town. His unbroken theatrical career includes acting on and off Broadway and in regional theatre, followed by the directing career which now numbers over 45 New York productions, Obie and Drama Desk awards, and, with his early productions, earning the first Tony for The New York Shakespeare Festival. He has held Fulbright, Rockefeller, and Ford grants, worked with 20 British repertory theatres, and enjoyed a residency with Brecht's Berliner Ensemble. He has been awarded two honorary doctorates, and is currently Marsh Professor at Large at the University of Vermont, having also served stints as visiting professor/guest artist/master teacher at Harvard, Ohio State, University of Georgia, Reed College, Northern Illinios University, University of Kansas, And New School University's Actors Studio Drama School. With Anne Thompson Vaughan he has adapted and Produced Goldoni's The Servant of Two Masters and Feydeau's The Girl From Maxim's, and his original plays, Assassination 1865, Ghost Dance, And The Royal Game have been produced regionally. His novel about Anne's forbears captured by Indians, Captives 1677, was published in 2009, and other published writings include A Possible Theatre (McGraw-Hill, 1969) and Directing Plays (Longman, 1993). In New York, he studied with Harold Clurman and in London at the Central School. He is a member of Actors' Equity Association, Stage Directors and Choreographers Society, and The Actors Studio. His M.A. is from indiana University, and he was born in Terre Haute, Indiana. The Vaughans divide their time between an old house in High Bridge, New Jersey, and an apartment in Manhattan. Immediately after The Scarlet Letter closes in West Hartford, he and Anne are off to Turkey, where he is to head an internationally sponsored seminar on play direction.
WILLIAM SHUST* (Chillingworth) has acted on Broadway in Arturo Ui, The Owl and The Pussycat, and The Country Girl. He has acted in Professional theatre in 20 States of the U.S.A. and in the District of Columbia. He has appeared in Canada at the O'Keefe Centre and in Winnipeg at the Manitoba Theatre Centre. In London he has appeared on the stages of the Drury Lane, The Gate, And The Globe, and in the Edinburgh Theatre Festival where he won first prize for his performance. He has toured with his one-man show in which he portrays the Russian playwright Anton Chekhov. His acclaim in the role, which he performed for 3 months off-Broadway in New York City to great newspaper reviews, prompted an invitation from the Soviet  Theatre Workers for him to appear in Moscow and the Chekhov Theatre Festival in Yalta where he received 5 curtain calls on the opening night of his performance. On television he has appeared on all of the major networks in Dramas and special productions like "The Adams Chronicles" in which he portrays Patrick Henry. Among major roles he has played: Hamlet, Iago, Richard III, Prospero in "The Tempest" and as King Lear
JANA MESTECKY* (Hester Prynne) was most recently seen as Gina in Little Light Production's Under Covers and is thrilled to reprise her role as Hester Prynne in The New Globe's Theatre, Inc.'s production of The Scarlet Letter at Playhouse on Park. Other highlights include Beatrice in The New Globe Theatre, Inc.'s The Servant of Two Masters at Theatre Three, The Angel Project with Tony Award-winner Deborah Warner (Lincoln Center Festival), Fool for Love (Bleecker Street Theatre), When A Storm Comes (Epic Repertory Theatre Company, DR2), The Informer (Ernie Martin Studio Theatre), Unexpected Tenderness  (written & produced by Emmy Award-winner Israel Horovitz), many seasons as a company actor with The Repertory Theatre of St. Louis' Imaginary Theatre Company, Mr. Vaughan's original play Trick of Fate (The Players Club), and her New York film debut in The New Guy. In addition to her BA and MFA in acting, she has studied at The American Conservatory Theatre in San Francisco and Théâtre des Cinquantes in Paris, France. As a proud member of AEA, SAG and AFTRA, she continues to perform nationally and internationally but is delighted to call The New Globe Theatre, Inc. her artistic home.
CRAIG RISING* (Reverend Arthur Dimmesdale) is delighted to return to the role of Reverend Dimmesdale and he is honored to be making his debut at Playhouse on Park.  New York Theater: I Knock at the Door and Pictures in the Hallway (New Globe Theatre), The Scarlet Letter (New Globe), LUCK! (Bank Street Theater), American Caesar (Theatre 3), The Servant of Two Masters (New Globe), The Roads That Lead Here (DR2, NY premiere), Circles of Light (E.S.T.), Antigone (DR2) and black + blue (The Actors Studio). Film/TV: Parasites…or the Weight of the World, Saturday Night Live.  Craig is a proud member of Actors' Equity.

Additional cast members include:  ED BERNSTEIN (Rev. Wilson), BRAD BRINKLEY (Brackett), SHIRLEY DEPHILLIPS (Mrs. Hobson), HOLLIS LONG (Pearl), RAYAH MARTIN (Mrs. Apthorpe), CHARLES MERLIS (Gov. Bellingham), KENDRA UNDERWOOD (Mrs. Waite) and HEIDI WEINRICH (Mrs. Cole).
*Member of Actors' Equity Association, the Union of Professional Actors and Stage Managers in the United States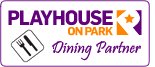 Show your tickets before or after the show at any one
of our dining partners and receive an discount or free
offering!

Ticket Info Page
|
Buy Tickets
|
Calendar