SIDE BY SIDE BY SONDHEIM
Music by Stephen Sondheim,
Jule Styne, Richard Rodgers and
Mary Rodgers
Lyrics by Stephen Sondheim
Continuity by Ned Sherrin
September 8 - 19, 2010

BRIGHTON BEACH MEMOIRS
by Neil Simon
November 10 - 21, 2010

ART
by Yasmina Reza
translated by Christopher Hampton
January 12 - 23, 2011

THE SCARLET LETTER
by Nathaniel Hawthorne
March 9 - 20, 2011

THE COMEDY OF ERRORS
by William Shakespeare
April 6 - 17, 2011
Simon draws a hilarious and poignant, semi-autobiographical portrait of a Jewish-American family, as seen through the eyes of 15-year-old Eugene Jerome, a fledgling writer who documents his observations in a daily journal. In between obsessing over girls and baseball, he paints a rich picture of his colorful relatives, all living together under one roof in post-Depression, pre-World War II Brooklyn.

"Simultaneously poignant and funny." - Variety

"Hilarious comedy...His finest play...A delightful and enriching experience."-CBS-TV

Directed by Cie Peterson



See photos from this production
in our Photo Gallery.

REVIEW: CT Wit
SUN

MON

TUE

WED

THU

FRI

SAT

11
7:30pm (Opening Nite)

12
8:00pm
.

13
8:00pm
.

14
2:00pm
Talk Back with the cast


15





16


17



18
7:30pm


19
8:00pm


20
8:00pm


21
2:00pm



ROBERT RESNIKOFF* (Jack Jerome): Playhouse on Park: Debut; Long Wharf Theater Stage II, Oddfellows Playhouse, Katharine Hepburn Theater: Adrian (PRIVATE EYES); Oddfellows Playhouse Benefit: Claudius (HAMLET); Fraunces Tavern: Dr. Lyman Hall (1776); Cherry Lane Studio Theater: Hersh (MASQUERADE); Quaigh Theater: Prince Cheremshanov (LIGHT SHINES IN DARKNESS; Long Island University Guest Artist: Moon (THE REAL INSPECTOR HOUND); Off-Broadway Theater: Charles (HIGH SPIRITS), The Captain (ANYTHING GOES); Film: Don (Father), Ronnie Wellcox (Crumbling Walls); Radio: WQXR-NY, WSHU-Fairfield; Narration: Claustrophobia in Moscow (Scandinavia House, NYC) Emigration (audiobook) East of the River (CPTV documentary), Alcohol Awareness (audiobook); Live Host: Opera By the Sound


JAN NEUBERGER* (Kate Jerome): was a member of the original cast of WICKED, delivering the green baby nightly and stepping in frequently as Madame Morrible. Also on Broadway: Original casts of HOW THE GRINCH STOLE CHRISTMAS (Grandma Who); BIG (Miss Watson); A CHANGE IN THE HEIR (Martha); and the 1974 revival of GYPSY. In the course of her 37-year career, Jan has done everything from Off-Broadway to regional theatre to summer stock, concert work and more. Connecticut audiences are familiar with her from numerous productions at the Goodspeed Opera; Connecticut Repertory Theatre, the Ivoryton Playhouse, Seven Angels, and the Downtown Cabaret. A Newtown resident since 1996, Jan is currently an undergraduate English major at Trinity College.
MATTHEW MACCA (Eugene Morris Jerome) is thrilled to be making his debut at the Playhouse! He currently attends Hall High School, where he has performed in shows such as A MIDSUMMER NIGHT'S DREAM(Flute/Thisbe), THE SERVENT OF TWO MASTERS(Silvio), PICASSO AT THE LAPIN AGILE (Sagot), YOU CAN'T TAKE IT WITH YOU(Donald), among others. He would like to thank his friends and family for their love and support!

HOLLIS LONG (Laurie) Playhouse debut. Theatre: Off Broadway: WIZARD OF OZ at Madison Square Garden (Ensemble); Regional: CHRISTMAS CAROL at The Hartford Stage (Belinda Cratchit 2008 & 2009); Community: ANNIE (Annie) Artful Living; THE SECRET GARDEN (Mary Lennox) Opera House Players; WILLY WONKA (Violet) Hartford Children's Theatre; SEUSSICAL (JoJo). Vocal Performances: Hollis frequently sings at The Broadway Comedy Club in NYC with the Broadway Kidz Cabaret, National Children's Choir (Denver Opera '08 & Constitution Hall in D.C. '09), Film: You Belong With Me (Dawn), The Return (Emma). When Hollis is not performing, she is reading or hanging out with her family skiing, hiking, mountain biking & cooking.

CAROLYN CUMMING (Nora) has performed at the Playhouse on Park in MAMA TOMCAT, SOMETHING COOL...CABARET, THE....STOP/TIME VARIETY SHOW and MY SHOW: A CHOREOGRAPHER'S STORY with stop/ time dance theatre. However, Carolyn is thrilled to be in her first Playhouse Mainstage production of BRIGHTON BEACH MEMOIRS! Past credits: HAIR (Chrissy), THREEPENNY OPERA (Ensemble) and CABARET (Dancer) with the Connecticut Repertory Theater, GYPSY(Louise), 42ND STREET (Maggie Jones) and FIDDLER ON THE ROOF (Tzeitel) with West Hartford Summer Arts Festival and CATS (Exotica) at the Greater Hartford Academy of the Arts.

HEIDI JEAN WEINRICH (Blanche Morton) Is very happy to be making her debut at Playhouse on Park in her 7th Neil Simon production. She recently moved to CT after 10 years in Seattle where she played many roles in many plays including the one-woman SHIRLEY VALENTINE. In October, she appeared in A MACABRE MACBETH in the haunted basement of the Mark Twain House with Capital Classics. In September she played Ethel in ON GOLDEN POND for Windham Theatre Guild (way before being age appropriate) and before that, Queen Elizabeth in RICHARD III at Hole in the Wall Theater. Heidi also teaches drama for New Britain Youth Theater. Thanks to Cie and this great cast and crew. And thanks always to Mom and Dad for their wonderful support.

SAM DUFFY (Stanley) is making his Playhouse on Park debut. Before Brighton Beach, the bulk of his acting has taken place at Southern Virginia University, where his favorite roles included C. C. Showers in THE DIVINERS and Nick Bottom in A MIDSUMMER NIGHT'S DREAM. He also starred in an award-winning short film in Vancouver, British Columbia while he wasn't busy working illegally at a moving company. Sam wants to send all his love to his parents, Teemo, Juice, Padraic, Brett Favre and Wrangler Jeans, JoTron, and all his friends and family all over the continent. Last but never least to my beloved Number 27, who always believed that I would make it somewhere.
*Member of Actors' Equity Association, the Union of Professional Actors and Stage Managers in the United States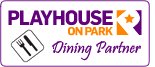 Show your tickets before or after the show at any one
of our dining partners and receive an discount or free
offering!

Ticket Info Page | Buy Tickets | Calendar