SIDE BY SIDE BY SONDHEIM
Music by Stephen Sondheim,
Jule Styne, Richard Rodgers and
Mary Rodgers
Lyrics by Stephen Sondheim
Continuity by Ned Sherrin
September 8 - 19, 2010

BRIGHTON BEACH MEMOIRS
by Neil Simon
November 10 - 21, 2010

ART
by Yasmina Reza
translated by Christopher Hampton
January 12 - 23, 2011

THE SCARLET LETTER
by Nathaniel Hawthorne
March 9 - 20, 2011

THE COMEDY OF ERRORS
by William Shakespeare
April 6 - 17, 2011
Stages on the Sound brings their much heralded production of William Shakespeare's The Comedy of Errors to the Playhouse. In this hysterical contemporary adaptation, the bard's tale is performed with 4 actors. This production is Shakespeare in its most accessible form.

David Fuller, Newyorktheatre.com: "You should go. You will laugh, you will smile constantly, and you will consistently wonder at how in the heck they are able to pull off Shakespeare's complete comedy with just four actors" – Newyorktheatre.com

Directed by Will Ditterline


SUN

MON

TUE

WED

THU

FRI

SAT

7
7:30pm (Opening Nite)

8
8:00pm
.

9
8:00pm
.

10
2:00pm
Talk Back with the cast


11





12


13



14
7:30pm


15
8:00pm


16
8:00pm


17
2:00pm



BRAD DEPLANCHE (Dromios, Egeon, Abbess, Dr. Pinch) is thrilled to be making his Playhouse on Park debut. Recent shows include; THE 39 STEPS, for Florida Repertory Theatre and Orlando Shakespeare Theater, Porthos in THE THREE MUSKETEERS for People's Light and Theatre Company in PA. and Pseudolus in A FUNNY THING HAPPENED ON THE WAY TO THE FORUMfor Pennsylvania Shakespeare Festival. Off-Off Broadway; China; THE WHOLE ENCHILADA (NY Fringe Festival), CLOUD 9 at Classic Stage Company and ARMCHAIR IN HELL at Theatre at St. Clements. Regional Theatre; Actors Theatre of Louisville (5 Seasons), American Conservatory Theater, South Coast Repertory, Syracuse Stage, Utah Shakespearean Festival, Cape Playhouse, Hangar Theatre, B Street Theatre, and Seattle Shakespeare Company. Upcoming; THE 39 STEPS for Actors Playhouse in Miami and THE COMEDY OF ERRORS for Shakespeare Santa Cruz. Brad won several regional theatre awards for his portrayal of Passepartout in AROUND THE WORLD IN EIGHTY DAYS, directed by Russ Treyz. Brad hails from Michigan and holds an MFA from the American Conservatory Theatre. Go Blue!


JESSE GRAHAM (Adriana, Angelo, etc.) Playhouse on Park debut. NY theatre: THE ROVER(New York Classical), HEY GOD?(Times Square Equity Showcase). Tours: A CHRISTMAS CAROL (Troupe America), SMOKE ON THE MOUNTAIN (Cumberland Co. Playhouse). Regional: A FUNNY THING...FORUM (Monomoy Theatre), STEEL MAGNOLIAS (Derby Dinner Playhouse). Film: Trailerpark, Death of the Cool (MDIA 419). MFA: Ohio University. Great thanks to all my mentors and advocates, with a warm spot in my heart for Dr. Morosco.
VANESSA MOROSCO Playhouse on Park debut. New York Classical Theatre: Angellica Bianca (THE ROVER); Rape of the Lock: Baron (JUDITH SHAKESPEARE); Importance of Being Earnest: Gwendolyn(THEATRE1010); Way of the World: Peg (YALE REP); Love's Labour's Lost: Princess of France (FOLGER SHAKESPEARE THEATRE); School for Scandal: Lady Teazle (PITTSBURGH IRISH & CLASSICAL); Julius Caesar: Cassius (TENNESSEE SHAKES); Candida (BAY THEATRE); Blithe Spirit: Elvira (WAYSIDE THEATRE); and six seasons at AMERICAN SHAKESPEARE CENTER (including Helena in All's Well, Hippolita in Tis Pity She's a Whore, and The Duchess of Malfi). Training: BADA, Shakespeare & Co., and SITI Co. (www.vanessamorosco.com)


BRENDAN NORTON (Antipholus of Syracuse/Antipholus of Ephesus) is thrilled to return to Playhouse on Park, after playing Sir Mullet in TRAPEZIUM last season. Plays and Players: Gordon Schwinn (A NEW BRAIN); Society Hill Playhouse: Louis Ironson (ANGELS IN AMERICA); Villanova Theatre: Foigard (THE BEAUX' STRATAGEM). B.A. in Theatre Performance, FordhamU@LincolnCenter. Thanks to Will, the cast and crew, my family, and the Sobels.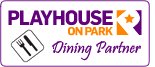 Show your tickets before or after the show at any one
of our dining partners and receive an discount or free
offering!

Ticket Info Page
|
Buy Tickets
|
Calendar