SIDE BY SIDE BY SONDHEIM
Music by Stephen Sondheim,
Jule Styne, Richard Rodgers and
Mary Rodgers
Lyrics by Stephen Sondheim
Continuity by Ned Sherrin
September 8 - 19, 2010

BRIGHTON BEACH MEMOIRS
by Neil Simon
November 10 - 21, 2010

ART
by Yasmina Reza
translated by Christopher Hampton
January 12 - 23, 2011

THE SCARLET LETTER
by Nathaniel Hawthorne
March 9 - 20, 2011

THE COMEDY OF ERRORS
by William Shakespeare
April 6 - 17, 2011
Serge has just indulged his penchant for modern art by buying a large, expensive and almost blank white painting. Marc is horrified, and their relationship suffers considerable strain. Yvan is caught in the middle, trying to please and mollify each of them. From beginning to end, Art is a dazzling array of crackling language and a witty and intelligent exploration of the complexities of friendship and a provocative and profound debate about the rules that dictate art. It won the Olivier and the Tony Award for best play.

" 'Art' belongs to a tradition that once flourished but is seldom represented these days: the sleek, pleasant comedy of manners with an intellectual veneer that allows audiences to relax…a limber comic exercise in escalating tensions." – New York Times

"A fine production. Harris and Hollman again show the ability and chemistry to make the audience laugh/gasp/hurt in quick succession." - Connecticut Wit

Directed by Drama Desk Award Nominated Director Tom Ridgely


See photos from this production
in our Photo Gallery. REVIEW: CT Wit blog

SUN

MON

TUE

WED

THU

FRI

SAT

13
7:30pm (Opening Nite)

14
8:00pm
.

15
8:00pm
.

16
2:00pm
Talk Back with the cast


17





18


19



20
7:30pm


21
8:00pm


22
8:00pm


23
2:00pm



ANDY GERSHENZON (Marc)  is a member of The Bats, the resident acting company at the Flea Theatre, where he originated roles in A.R. Gurney's OFFICE HOURS, GIRLS IN TROUBLE, and THE GREAT RECESSION. Other recent credits include: THE END, (NY International Fringe Festival), and IN THE NAME OF BOB, (Gene Frankel, People's Improv Theatre). He has also acted in films, most recently in a role opposite Tilda Swinton in the upcoming feature WE NEED TO TALK ABOUT KEVIN. Love to Jane.
RICH HOLLMAN (Serge) returns to the Playhouse on Park stage after performing in THE COMPLET WKS OF WILLM SHAKSPERE (ABRIDGED). NY Theater: Lucille Lortel, LaMaMa ETC, Cherry Lane, HERE Arts Center, Florindo in THE SERVENT OF TWO MASTERS directed by Tony winner Stuart Vaughan. TV: recurring characters/principals on ALL MY CHILDREN, GUIDING LIGHT, LAW AND ORDER, AS THE WORLD TURNS Improv!: PIT house team Local 154. Voiceover: THE ELECTRIC COMPANY, Thinkativity Toys. Music Composition: Thinkativity Toys, Kevin Allison's RISK! podcast. Independently made shorts: JEAN CUT-OFF. This is Rich's fourth production with Tom Ridgely!  Rich is a proud member of AEA, AFTRA, and SAG.
SEAN HARRIS (Yvan) is performing for the second time on the POP stage after performing in the COMPLET WKS OF WILLM SHAKSPERE (ABRIDGED) Other Theatre: Florida Studio Theatre, Shakespeare on the Sound, The Pennsylvania Shakespeare Festival, and the Roxy Regional Theatre. His NYC Theatre credits include DINNER WITH FRIENDS (Tom), HAMLET (Laertes), MUCH ADO ABOUT NOTHING (Claudio), and BLOOD WEDDING (Bridegroom). Film/TV: SATURDAY NIGHT LIVE, THE EARLY SHOW, TABLE ONE, CAPTAIN KARAOKE, BEING MICHAEL MADSEN. Sean has his BA in Acting and directing from DeSales University and an MFA from the New School for Drama/Actors Studio. He has been an acting teacher and director for over ten years and is currently the Director of Theatre at Hall High School in West Hartford, which was recently selected to represent the United States as part of the American High School Theatre Festival in Edinburgh Scotland.
TOM RIDGELY (Director) is a co-founder of Waterwell and has directed its  #9, THE|KING|OPERETTA, and MARCO MILLIOINS (BASED ON LIES) [Drama Desk Nom],  among others. Other recent NYC: THE LAND WHALE MURDERS and LUCK OF THE IBIS (Shelby Company); HAT-TRICK (Ars Nova) ;Centralia's UNCLE AND AU BON PANIC (The PIT). Regional/Educational: THE WIZARD OF WALL STREET (Indiana  University), ONCE UPON A MATTRESS (Johns Hopkins University), THE COMPLET WKS OF WILLM SHAKSPERE (ABRIDGED) (Playhouse on Park).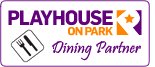 Show your tickets before or after the show at any one
of our dining partners and receive an discount or free
offering!

Ticket Info Page | Buy Tickets | Calendar