---
Director Of Education
ELIZABETH SIMMONS
Elizabeth Simmons is a Theatre Educator/Teaching Artist with over 10 years of experience developing programming and building curriculum for theatres, schools, and arts organizations. She recently moved to Connecticut from New York City, and is pleased to be joining the team at Playhouse on Park! She currently teaches at the Greater Hartford Academy of the Arts and Goodspeed Musicals, as well as with Hartford Performs. In New York City she received her Master's Degree in Educational Theatre from the City College of New York. Prior to relocating, Elizabeth worked as a Teaching Artist for the Brooklyn Academy of Music, Queen's Theatre and the Center for Arts Education. She has served on the New York City Arts in Education Roundtable Committee, and this past year joined the planning committee for the NYC Theatre in Our Schools conference, where she planned logistics and led workshops for over 80 arts administrators, teachers, and teaching artists. As an actress, Elizabeth recently appeared as Miep in THE DIARY OF ANNE FRANK at Playhouse on Park: other favorite credits include: Stephanie Crawford (TO KILL A MOCKINGBIRD), Mrs.Rogers (AND HEN THERE WERE NONE), Annie (TABLE MANNERS) and Catherine (BOSTON MARRIAGE).
---
Playhouse On Park Teaching Artists
THOMAS BEEBE
Thomas Beebe is an actor, director, and teaching artist who has worked with many professional companies across Connecticut. Thomas has held various positions in educational theatre with companies including Hartford Stage and Hartford Children's Theatre. Some recent projects include productions of Charlotte's Web and Robin Hood and classes in Improv, Broadway Dance, Acting, and Playwriting. As an actor, Thomas has appeared in over 50 productions at theaters such as Playhouse on Park, Hartford Stage, The Bushnell, and Peak Performances with favorites being Max Bialystock in the hit musical The Producers and William Barfee in Spelling Bee. Thomas holds BFA in Musical Theatre from Montclair State University.


HELEN T. CLARK
Helen T. Clark is an Adjunct Faculty member for the Dept. of Theatre Studies at UConn and a co-facilitator for HartBeat Ensemble's YPI program. She was an artist in residence at Berkshire Theatre Festival from 2005-2006 and has been performing regionally since. Favorite roles include Julius Caesar (Portia), The Hot L Baltimore (Jackie), Who's Afraid of Virginia Woolf? (Honey), and most recently You Can't Take it With You (Essie) Directed by Robert Moss. She has spent the past 11 years in Ithaca, NY with The Hangar Theatre (Education Director, Actor, Teaching Artist), the political/social justice theatre company Civic Ensemble (Actor/Facilitator), and The Cherry Arts (Company Artist) where she has premiered English translations of international plays both in the US and globally, most notably Testosterone (Solvieg) from Germany, Winter Animals (Woman) from Argentina, and Rule of Thumb (Monika) from Serbia, which was also the world premiere of this piece. She holds a BFA in Acting from UConn and an MFA in Interdisciplinary Arts from Goddard College.
KIRSTEN EASTON-HAZZAA
Kirsten Easton-Hazzaa is an actor, playwright, teacher, producer, and lover of all things theater. She holds a B.A. in both Theater and Sociology from Occidental College and an M.F.A. in Theater (Playwriting) from Southern Illinois University. Her plays have been performed in Los Angeles, New York City, London, Chicago, and many other places.  In 2018 and 2019, Kirsten was playwright-in-residence at La De Da Performing Arts Company, in Fort Collins, CO. She's taught courses in introductory theater, play script analysis, playwriting and acting to students ages 6-76. Kirsten is also one of the producers for the Hartford Fringe Festival, where she helps mount performing arts pieces that are "off the beaten path". When she's not doing her theater things, Kirsten enjoys the challenge of befriending introverts and folding her t-shirts using the Konmari method.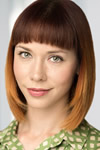 SIERRA KANE
Sierra Kane is grateful to be a teaching artist for Playhouse on Park. She comes to Connecticut by way of Southern California where she received her B.A. in Communications at California State University, Fullerton. At Fullerton she received an opportunity to co-teach a college level public speaking course. There she realized she had a passion for teaching. With years of acting and comedy improv experience she soon started teaching a weekly comedy improv course open to the public. Due to the success of the class, it ran for two years, until she moved away. Sierra has also been fortunate enough to have worked as a counselor at an Easter Seals Camp, a camp for youth with disabilities. In May she will graduate with her MFA in Acting from the University of Connecticut.
---
Improv
CLAIRE ZICK
moved to West Hartford from Seattle where she was an ensemble member at Unexpected Productions, Seattle's first and most reputable improv theater company. She performed weekly in Seattle Theatresports™ and long-form shows such as HAROLD, SPOKEN, BLANK SLATE, FAKESPEARE, THE MELANIE GAME, CAMPFIRE, A(N) IMPROVISED CHRISTMAS CAROL, BLACK-EYED BLONDE, IMPRESSIONISTIC HORROR, and improvised versions of movie genres. She was also the Assistant Artistic Director and only female member of Sisters of Sal, a long-form improvisational comedy troupe that won Seattle Cage Match and performed with Ryan Stiles. She has studied improv at Unexpected Productions, Magnet Theater, and UCB Theatre. Her instructors have included Randy Dixon, Matt Smith, Jill Farris, Armando Diaz, Christian Capozzoli, Keith Johnstone and Mick Napier. Locally, she has been seen in VANITIES, ISN'T IT ROMANTIC, ARSENIC AND OLD LACE and LEND ME A TENOR as well as other scripted and improv productions in theaters around the state.
TEACHES: Adult Improv classes