SATURDAY, JUNE 18, 2022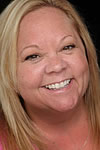 KAREN GOLDMAN JAFFEE (Co-Headliner)
Karen has been making people laugh since the age of six, when she punched an actor from Sesame Street LIVE in a rather sensitive area in front of a theater full of people. As an adult, she has found appreciative audiences in comedy clubs and independent shows all over the country, and she is a semi-finalist in the 2019 World Series of Comedy Festival. Her podcast, "Everybody Dies," will debut later this year. She has worked with such notable and varied comedians as Stewart Huff, Greg Hahn, Bobcat Goldthwait, and Mark Normand.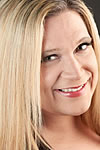 LORI GRAVES (Co-Headliner)
Lori Graves is from southern Ohio, and she started comedy on a drunken dare. She entered some amateur contests at a couple clubs and (gasp) won. It was then she realized, at 37, what she wanted to be when she grew up...a comedian. As an only child of an overbearing mother she's worked as a lunch lady, a bartender, and a nanny only to discover they are basically the same job. Lori has developed a unique way of looking at the things around her and has plenty of real life examples about how crazy an average Lori day can be. She has worked with nationally touring comics and also heads the longest running non-club comedy open mic in Ohio. You catch her on Pandora and Spotify, performing throughout the Midwest, or read her entertainment column for the Gannet Company, Inc.