SATURDAY, APRIL 2, 2022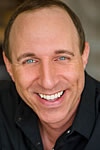 CHRIS MONTY (Headliner)
With over 20 years of stand-up comedy and television under his belt, Chris Monty continues to delight audiences worldwide. His latest high profile projects include his stand-up comedy special titled "What's the Worst That Could Happen" (Amazon Prime), Vinyl (HBO), Red Oaks (Amazon Prime), Paul Bart: Mall Cop 2 (Sony Pictures), Kevin Can Wait ( CBS), and Orange is the New Black (Netflix). In his stand-up, Chris Monty channels a refreshing and unique style of the 1960's cool funnyman mixed with a modern chic. His unique take on current topics and storytelling are reminiscent of the comics that would keep The Rat Pack in stitches for weeks. He spans generations in that older crowds love his cool, retro style and younger crowds see a cadence that they haven't seen on stage. It is truly something unique to experience. Chris's experience as a stand-up lends itself to his wide ranging acting work also. He uses his quick improvisational skills and ability to use physical slapstick and timing to enhance his lead and supporting actor's roles. . Whether on screen or stage, Chris Monty has the chops to make your creative endeavor something to be remembered for months and years to come.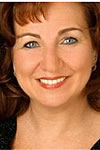 SANDY EHLERS (Feature)
Sandy Ehlers was born and raised in Hoboken, New Jersey. A twelve-year comedy veteran, Sandy has performed stand-up at many of New York City's major clubs, such as Gotham Comedy Club, New York Comedy Club, Broadway Comedy Club, and The Comic Strip. Sandy's comedy journey began with an appearance on ABC's The View with Joy Behar in 2003. She has studied Improv at Upright Citizens Brigade in NYC. Sandy has been a contestant in the Cape May Comedy Festival, in which she was a top ten finalist out of 100 comedians and the only female selected as a finalist. Sandy has also been a contestant of the Ladies of Laughter competition at the Gotham Comedy Club this past July 2014. Her comedy is eclectic, funny and eccentric. She's a combination of Joy Behar, Roseanne Barr, and Joan Rivers all rolled up into one. One of the funniest but on-target critiques she's ever gotten was someone telling her she sounded like a female Frank Sinatra when she spoke with her Hoboken accent and her strong conviction of her thoughts and stories, as she takes no prisoners and tells it like it is "her way."