LITERATURE ALIVE: 2014-2015 Season

An opportunity to extend the classroom by bringing students to the theater. We include the following as part of your field trip experience:

> A study guide to prepare students for the production
> A Professional from Playhouse on Park will travel to your school and lead a workshop for students, teaching them about elements of this production
> A post-show discussion or a meet and greet with the cast
Teachers and paraprofessionals chaperoning the trip attend for free!


Read some feedback from teachers who have
experienced Literature Alive at Playhouse on Park.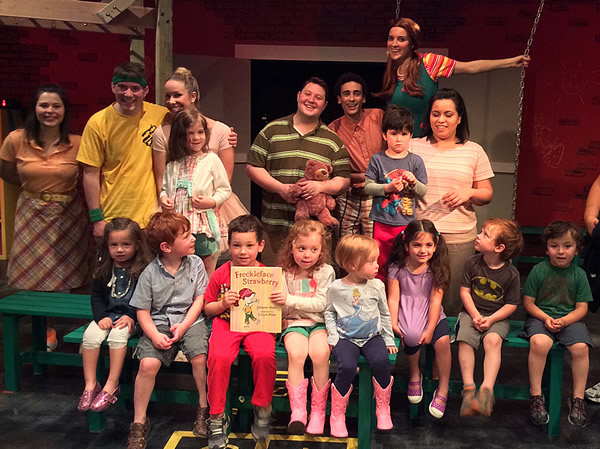 Solomon Schechter preschoolers attended Freckleface Strawberry!
BUSYTOWN
Book by Richard Scarry
Appropriate for: Grade Pre K – 2
October 28 – November 7, 2014
$6 per student
Busytown is always buzzing with activity.  But what do people do all day?  That's where Huckle Cat comes in – he'll take us on a tour of his great neighborhood.  And there is so much to see and do, so many wonderful friends to visit.  Isn't it wonderful how everyone works together to keep Busytown busy?

PROOF
By: David Auburn
Appropriate for: High School and College
January 27 – February 6, 2015
$10 per student
Winner of the 2001 Pulitzer Prize and Tony Award for best play.  On the eve of her 25th birthday, Catherine, a troubled young woman, has spent years caring for her brilliant but unstable father, a famous mathematician.  Now, following his death, she must deal with her own volatile emotions.
*Great for math and psychology courses

THE IMPORTANCE OF BEING EARNEST
By Oscar Wilde
Appropriate for: Grade 7 – College
April 21 – May 1, 2015
$10 per student
One of the most celebrated comedies of all time.  Jack and Algernon pursue countryside adventures and the ladies who have won their hearts.  Mistaken (and falsified!) identities previal in this delicious comedy of manners until the young gents cross the formidable Lady Bracknell, giving audiences laughst to last a lifetime.
*Great for English and dramatic literature courses
FRECKLEFACE STRAWBERRY THE MUSICAL
Based on the book by Julianne Moore
Appropriate for: Grade K – 4
May 12 – May 22, 2015
$6 per student
Freckleface Strawberry will do anything to get rid of her freckles – from scrubbing them with soap, to caking on makeup, and even wearing a ski mask to school!  Will Freckleface Strawberry be brave enough to finally face her complexion in the mirror?  With the help of her lovable schoolmates, Freckleface learns that everyone is different – and that's what makes everyone special.


Playhouse on Park has some funding available to allow students in need of financial assistance to attend productions. Please contact Dawn Loveland via email or phone at (860) 523-5900 ext. 15 to discuss whether your school group can take advantage of some of this funding.

For more information, contact the Director of Education: Dawn Loveland email or phone 860-523-5900 Ext. 15