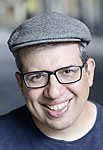 EDWARD EINHORN

Edward Einhorn is a playwright, director, translator, librettist, and novelist. His work has been performed in New York venues such as La MaMa, 3LD Art & Technology Center, HERE Arts Center, The New Ohio, St. Ann's Warehouse, the Walter Bruno Theater at Lincoln Center, and the Bohemian National Hall. Outside of New York, his work has been done at Peckham Asylum Chapel (London), Wigmore Hall (London), Milton Court at the Barbican (London), Forth Worth Opera (Fort Worth, Texas), Sacred Fools (Los Angeles), and the Czech Embassy (Washington, DC).  He is the Artistic Director of Untitled Theater Company No. 61: A Theater of Ideas – a New York independent theater company.
Recent shows include The Marriage of Alice B. Toklas by Gertrude Stein, a comic farce about the lives of Stein and Toklas, which received a Critic's Pick from the co-chief reviewer of The New York Times, Jesse Green; The Neurology of the Soul, a play about the nexus between neuroscience, marketing, art, and love; The Resistible Rise of JR Brinkley, a Brechtian parable based on the true story of a  1920's con man who turned politician; The Iron Heel, an adaptation of Jack London's socialist dystopic novel from 1908; City of Glass, an adaptation of the neo-noir novel by Paul Auster; Money Lab, an economic vaudeville combining multiple performance disciplines (dance, opera, puppetry, cabaret, clowning, and interactive games); The Velvet Oratorio, an opera/theater piece commissioned for the 25th anniversary of the Velvet Revolution; The God Projekt, a puppet play about the origin of monotheism; and a stage adaptation of Do Androids Dream of Electric Sheep?
He has a BA in Writing from Johns Hopkins and an MA in Opera Writing – Librettos from The Guildhall School of Music and Drama.