Each season, Playhouse on Park entices thousands of individuals from Connecticut and the surrounding areas with our Main Stage and Young Audience productions, Comedy Nights, Improve Events and education programs. Our programs and productions allow audience members to expand their understanding of theatre as an art form. Our mission is to attract as broad an audience as possible.
ADVERTISE IN OUR PROGRAM
By choosing to purchase ad space, your business will be recognized by a diverse and ever-growing audience from all over the Connecticut area and beyond. Advertising with Playhouse on Park for our 8th Season would be a fantastic way to direct your philanthropic corporate goals towards a local non-profit arts organization that provides educational, entertaining, and exciting opportunities for all ages in your community. Those who choose to advertise with us receive ad space in our program books for all seven shows in our Main Stage Season, and have the ability to reach up to 20,000 consumers.
Form for Season 8 (2016-2017)
SPONSORSHIP
Choosing to sponsor Playhouse on Park is a win – win situation! You get to promote your business to our audience members, while supporting a local non-profit arts organization!
We offer different levels of sponsorship for our Main Stage Series, Young Audience Series and our Comedy Series. Our season sponsors receive many benefits, including additional advertising and complimentary tickets.
Clink on the link below for more details on sponsorship levels and benefits.
See our
Season 8 sponsorship packet
.
DINING PARTNER PROGRAM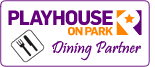 For restaurant owners, there are two other opportunities to partner with Playhouse on Park. Become a Dining Partner by offering a special or discount if patrons present their ticket or stubs on the night of a performance, for example. As we promote the Dining Partner program, your business will be getting additional exposure. Or - you can Host a Cast Party. This would include providing food and drink immediately following the opening night performance of a production. In turn, we'll promote your restaurant in several ways throughout the run of that production. Once again, please call 860-523-5900 ext. 11 if you are interested in either (or both!) opportunities.

Members of the Playhouse's marketing and development team are always out in the community visiting businesses. If you would prefer to schedule an appointment to learn more, please call 860-523-5900 ext. 11. We look forward to working with you.