Each season, Playhouse on Park entices thousands of individuals from Connecticut and the surrounding areas with our Main Stage and Young Audience productions, Comedy Nights, Improve Events and education programs. Our programs and productions allow audience members to expand their understanding of theatre as an art form. Our mission is to attract as broad an audience as possible.
BECOME A SEASON SPONSOR OR ADVERTISER
SPONSORSHIP: TENTH ANNIVERSARY GALA
Become a sponsor of our 10th Anniversary gala event to be held June 15, 2019.
---
Sponsorship and advertising opportunities for the 2018-19 Season are now available. If your business has in its mission a desire to give back to the community, this could be a good fit for you.
Special sponsorship opportunity for our production of THE SCOTTSBORO BOYS.
Playhouse on Park is managed by Playhouse Theatre Group, Inc., a 501(c)(3) non-profit professional theatre company. As a non-profit arts organization, we must raise 50% of our operating budget through fundraising. Fundraising includes individual donations, grants, events/activities, sponsorship and advertising. Annually, through these combined efforts, we must raise almost $500,000.  You can support these efforts while showcasing your business to our theatre-going audiences.
There are opportunities to sponsor an entire series including the 2017-18 Main Stage Series, the 2018-19 Young Audience Series, the 2018-19 Comedy Series or the 2018-19 Playwrights on Park Series. You may also choose to sponsor a single production within either the Main Stage or Young Audience Series. Straight advertising opportunities are available for the program books for either the 2018-19 Main Stage or Young Audience series. Again, single production opportunities are also available. 
The deadline for sponsors interested in being included in our Season Brochure is July 1, 2018. Opportunities will continue to be available after that date for both sponsors and advertisers. 
We are happy to answer any questions you might have and/or guide you toward the best fit for your business.  Please contact Kathleen Doherty, General Manager or 860-523-5900 ext 11


DINING PARTNER PROGRAM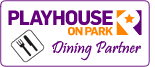 For restaurant owners, there are two other opportunities to partner with Playhouse on Park. Become a Dining Partner by offering a special or discount if patrons present their ticket or stubs on the night of a performance, for example. As we promote the Dining Partner program, your business will be getting additional exposure. Or - you can Host a Cast Party. This would include providing food and drink immediately following the opening night performance of a production. In turn, we'll promote your restaurant in several ways throughout the run of that production. Once again, please call 860-523-5900 ext. 16 if you are interested in either (or both!) opportunities.

Members of the Playhouse's marketing and development team are always out in the community visiting businesses. If you would prefer to schedule an appointment to learn more, please call 860-523-5900 ext. 11. We look forward to working with you.