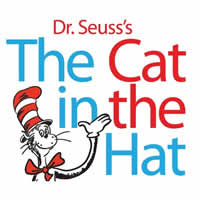 Leave it to the Cat in the Hat! Everyone's favorite feline in the red and white hat turns a rainy afternoon upside down with his madcap mischief and wacky adventures. Speaking only in rhyme, the Cat in the Hat shows Sally and her brother that "it's fun to have fun, but you have to know how," despite the misgivings of their well-mannered Fish. But what will Mother think of all the antics when she returns home? Find out when all of your favorite moments from this Dr. Seuss classic come to life before your eyes.

AUDITIONS:
New York Auditions: March 18th, 12:00PM-4:00PM
Connecticut Auditions: March 20th, 7:00PM-9:00PM
AUDITION Requirements: Those interested in auditioning must prepare a monologue within the spirit and presence of their desired character. The monologue must present a clear objective along with a strong sense of physicality and musicality. Ideally the monologue would uphold a clear idea of a beginning, middle and end with an emphasis on storytelling. Those auditioning may be asked to perform an improvised piece at the audition. Sides may also be presented at the audition. REHEARSAL SCHEDULE: Rehearsals will begin on Tuesday, May 9th. All actors must be available from May 9th through the closing of the production (June 11th). A rehearsal calendar will be provided to you upon casting. We are unable to work with conflicts.
PERFORMANCE SCHEDULE
PUBLIC PERFORMANCES:
CAT IN THE HAT has ten public performances.
June 3rd: 1PM June 3rd: 4PM June 4th: 1PM June 4th: 4PM
June 7th: 10AM June 7th: 2:30PM June 10th: 1PM June 10th: 4PM
June 11th: 1PM June 11th" 4PM

DAYTIME PERFORMANCES:
CAT IN THE HAT has sixteen school performances.
May 25th: 10AM May 25th: 1PM May 26th: 10AM May 26th: 1PM
May 30th: 10AM May 30th: 1PM May 31st: 10AM May 31st: 1PM
June 1st: 10AM June 1st: 1PM June 2nd: 10AM June 2nd: 1PM
June 6th: 10AM June 6th: 1PM June 9th: 10AM June 9th: 1PM
ROLES*:
Cat:
(Male or Female) A showoff in wild pursuit of fun.Mischievous and daring. Must have an incredible stage presence. Must be able to not only improvise but also add to the dynamic nature of the idea of physical theater. Quick thinker. Fun. Silly.
Fish:
( Male or Female) The family fish and parental figure of the story. Anxious and uptight. The actor will be acting while also working with a puppet. (Actors auditioning for the Fish may be asked to use a puppet during their audition.)
Boy:
(Male, stage age 8-12) Sally's brother. Excitable, but responsible and cautious.
Sally:
( Female, stage age 6-10) Wide-eyed and very curious. Adventurous.
Thing 1 and Thing 2
: (Male or Female, stage age 10+) The kite-flying duo that wreaks havoc on the Boy and Sally's house. Wild and out of control.
Kitten 1 and Kitten 2
: (Male or Female, stage age 10+) The Cat's playful assistants. Can possibly double as Thing 1 and Thing 2.
Mother:
(Female, stage age 30-40) The Boy and Sally's mother. A small role, appearing at the very end of the story. Possibly done with voiceover.
*All actors playing these roles must love working with children. Actors will do a "Meet and Greet" along with a Q&A after each performance.