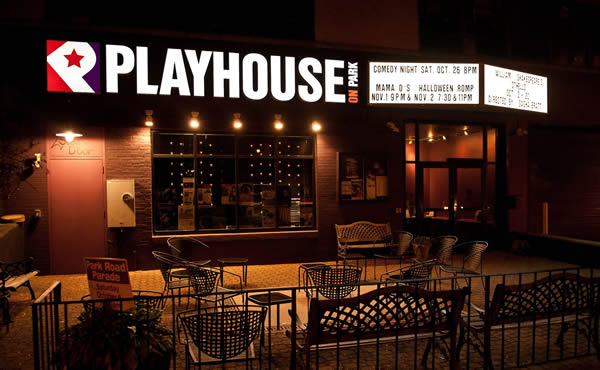 Our Mission
Playhouse Theatre Group, Inc. at Playhouse on Park has a mission to:
provide quality entertainment at affordable costs to as broad an audience as possible
embrace and provide opportunity for professional, emerging and community artists
offer educational and outreach opportunities through visiting and/or resident artists and educators
create and/or explore opportunities to collaborate with other existing arts organizations
be fiscally responsible and accountable at all times
continue to be an integral member of the West Hartford community
Board of Directors
Officers
Matthew Bragg, President
Margaret Rattigan, Vice President
Robert Slifka, Treasurer
Susan King, Secretary

Board Members
Gaetano Albani
Jane Comerford
Daniel Deutsch
Nina Elgo
David Figliuzzi
Kathy Frederick
Donna Haghighat
Tanya Penman-Sterling
Richard Rubenstein
Ruth Van Winkle
Janice Weinstein

Young Professionals Advisory Board
Renee Cox
Daniel Duetsch
David Figliuzzi
Emily Gauthier
Caitlin Griffin
Ryan Keating
Kelly Ku
Amanda Marschall
Rachel Spitzig
Joanna Sprout
Ramona Sukhraj
Brianna Wilson

Board Member Emeritus
Chuck Coursey, Founding Vice President
Bonnie Gauthier
Carol McCabe
Robert Rowlson
Julianne Roth
Ron Roy
David Wurzer, Founding President
Co-Founders

TRACY FLATER, Executive Director [email Tracy]
After an extensive career in the for-profit restaurant business, Tracy merged her passion for the performing arts and knowledge of business management to become an arts administrator in the non-profit sector. Tracy co-founded Playhouse Theatre Group, Inc., a not-for-profit professional theatre company in May of 2009 along with Sean Harris and Darlene Zoller. She serves as co-founder and Executive Director for Playhouse Theatre Group, Inc. Just prior to this, she spent four years (2004 - 2009) serving as Director of Off Campus Programs and Facilities for The Hartt School Community Division of the University of Hartford. In addition to her work at Playhouse Theatre Group, Inc., Tracy currently serves on the Simsbury Bank, West Hartford Advisory Board and on the Board of Directors for the following non-profit organizations:   The Mayor's Charity Ball (President), The Park Road Association (Co-President), The Hartt School of the University of Hartford and the Connecticut Dance Alliance.   

SEAN HARRIS, Artistic Director [email Sean]
Sean is the co-founder and co-artistic director of Playhouse on Park (POP), an award winning professional theatre located in West Hartford, CT. At Playhouse on Park he has directed the heralded productions of METAMORPHOSES, PASSING STRANGE, ANGEELS IN AMERICA, CABARET, HAIR, DANNY AND THE DEEP BLUE SEE, A CHORUS LINE and OF MICE AND MEN, among others. He has directed productions at several theatres in NYC and regionally including TBG, The Producers Club, Theatre 22, Theatre at Westbeth, and Fifth Letter Productions. Sean has performed on the Playhouse on Park stage in ART, THE MYSTERY OF IRMA VEP, THE DINING ROOM, THE HOUND OF THE BASKERVILLES and THE COMPLETE WORKS OF WILLIAM SHAKESPEARE (ABRDIGED). Regional Theatres: Florida Studio Theatre, Shakespeare on the Sound, The Pennsylvania Shakespeare Festival. NYC Theatre: The Actors Studio, Circle in the Square Downtown, Bank Street Theatre, Theatre at Westbeth. Sean has his BA in Acting and Directing from DeSales University and an MFA from the New School for Drama/Actors Studio. He has been an acting teacher and director for over fourteen years and was the Director of Theatre at Hall High School, which was selected to represent the United States as part of the American High School Theatre Festival at the Edinburgh Fringe Festival in Scotland in 2010, 2013 and 2015. He is currently a member of the theatre faculty at The Spence School in Manhattan.

DARLENE ZOLLER, Artistic Director [email Darlene]
Darlene is the co-founder and co-artistic director of Playhouse on Park where she has directed and choreographed A CHORUS LINE, CABARET, CHICAGO (Best Director of a Musical/Broadway World)  SWINGING ON A STAR, THAT HOLIDAY FEELING and PINKALICIOUS among others. She is the founder, director and choreographer of stop/time dance theater, the resident dance company of Playhouse on Park, now in its fifteenth year. She was voted Best Director of a Musical/Broadway World for  I'D RATHER BE DANCING and nominated for Best Choreography/CT Critics Circle for ROCKIN' THE FOREST. She IS Mama D of MAMA D's OUTRAGEOUS ROMP; a grown ups only music, dance and comedy event exclusive to the Playhouse. Darlene is an adjunct professor at the University of Hartford's Hartt School where she directed and choreographed CHICAGO and did the choreography for ON THE TWENTIETH CENTURY, THOROUGHLY MODERN MILLIE, SMILE and CURTAINS. She is an instructor at Big Sky Fitness in Vernon and teaches dance at THE 224.