Check out what we offered in Summer 2017 and check back for Summer 2018 offerings.
Summer programs for youth for 2017 are listed below. We also offer MASTER CLASSES with professional visiting artists. See our Master Class page for info on the Master Classes with DOUGLAS LYONS and JASON GOTAY.

KIDS ON STAGE (Grades K-5)
We offer two sessions of Kids On Stage!

Session 1: June 26 - June 30
Time: 9:00 - 12:00 noon

Session 2: July 24 - July 28
Time: 9:00 - 12:00 noon

Cost: $200 per session, if you register and pay in full by May 1st. $250 after May 1st

Instructors: Emily Santarsiero & Tori Mooney [bios page]


Description and Registration
Description:
KIDS ON STAGE focuses around the three disciplines of music, drama and the arts. Children will be introduced to theatre through creative play. Exercises and games will focus on acting through storytelling, creating a character, expressing a feeling, music, and movement. A craft and story will often be included. By the end of the class, students should be using their bodies and voices to start to create characters. Though the emphasis of the class will be on developing skills and not on a final performance, family and friends are invited to the last class to see students present scenes. Students will be split throughout the day within an effort to maximize ability levels.
All students enrolled in Session 1 of KIDS ON STAGE receive free entrance to the Musical Theatre Preparatory Program Showcase on Friday, July 21st.

Students may participate in short adaptations of: Frozen, 101 Dalmatians, Aladdin, Moana and more!
Young Actor Musical Theatre Preperatory Program (Grades 3 - 8)
A two week full-day intensive musical theatre program introducing and preparing young actors for future training and/or performance in music, dance and theater. We are happy to work with students of all backgrounds and levels of training. All are welcome!
Dates: July 10 - 21
Time: 9:00am - 3:30pm
Cost: $650 if you pay in full by May 1, 2017, $700 after May 1st.
Instructors: Kyle Reynolds, Kevin Barlowski, and Mallory Cunningham [bios page]

Broadway guest artists for Summer 2017 are: DOUGLAS LYONS & JASON GOTAY (click "More Program Info" to learn more).

Students may arrive as early as 8:30 am, and must be picked up by 4 pm. Students must bring their own lunches daily. Food will not be provided.

Description and Registration
Description:
This summer program gives older elementary and middle school students instruction in acting, dance, and music. Each day, students will have a schedule of classes and rehearsals. Guest artists will also be brought in to teach students master classes in special topics. There will be opportunities for instruction both in small groups and as an entire ensemble.
The emphasis of the program is on developing strong performance skills. As part of that goal, each student will be featured in a final performance as a singer, actor, and dancer. Students will also have opportunities to develop their own pieces during daily supervised rehearsals and will have a chance to perform their own "creative projects" for the rest of the students in the program each Friday.
2016 Summer Program Highlights:
Select performances from A CHORUS LINE, HAMILTON, MATILDA, ANNIE GET YOUR GUN and more!!
Masterclass with VEANNE COX (Seinfeld, An American in Paris)
Masterclass with SAMANTHA FARROW (National Tours: WICKED, EVITA)
Fairytale/Cartoon Character Day!
Improvisational Games and Acting Exercises!
Registration Form
More Program Info
Summer Jazz Dance Boot Camp: College Prep (Ages 16+)*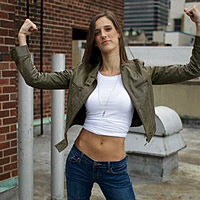 Come stretch, sweat and tone with us for one week leading up to going back to school. This program is for ages 16 and up.


Dates: August 7 - 11
Time: 1:00 - 4:00pm
Cost: $200
Instructor: Mallory Cunningham [bios page]

*14 & 15 year olds may register with parental permission.


Description and Registration
Description:
This is a great program for high school students who are going to college for the first time or even returning college students who are looking to tone! Each class will follow a daily warm up, stretching, conditioning, strengthening, and choreography.
Registration Form