RED LIGHT WINTER

by Adam Rapp

September 19 - 22, 2013

PLAYHOUSE ON PARK:
THEATRE UNCUT
November 15 & 16

THE TRESTLE AT POPE LICK CREEK

by Naomi Wallace

May 15 - 18, 2014
Our new Playhouse on the Edge series presents new, bold, and provocative contemporary plays that will challenge and enhance the experiences of Hartford area theatre audience. 

September 19 - 22, 2013
$20 adults $18 students, seniors, & Let*s Go ARTS
Directed by Dawn Loveland

Thursday, September 19th at 7:30pm
Friday, September 20th at 8:00pm
Sunday, September 22nd at 7:00pm
Read the review!

Former college friends Matt and Davis take off on a trip to Amsterdam and find themselves in a complicated love triangle with a young prostitute named Christina. When they return home, they discover that there is a much darker truth underneath the surface. A story of friendship, sexual encounters, and unrequited love, Red Light Winter was a finalist for the 2006 Pulitzer Prize. Audiences 18 and up only. This production contains nudity, strong sexual content, and profanity.
"…Unflinching, intense, and often bleakly hilarious…"- The Guardian
SHANNON MICHAEL WAMSER (Davis) Playhouse on Park: George (OF MICE AND MEN). Shannon is an actor/writer/director based in New York and is thrilled to be making his second appearance on the Playhouse stage. As an actor he has been seen on some exceptional stages around the US including The Public Theatre, Orlando Shakespeare Theatre, Arkansas Repertory Theatre, Northern Stage and many Shakespeare festivals. Most recently he shot "Interior," an independent horror film due to be released next fall. His work as a writer has been seen in New York City and internationally, including six seasons of the Edinburgh Fringe and with Teatre Polski in Poznan, Poland, as well as here on the Playhouse stage with his 4 actor adaptation of A COMEDY OF ERRORS. He is a proud member of AEA and he holds an MFA from Ohio University. www.shannonmichaelwamser.com


KIERAN MULCARE (Matt) Playhouse on Park Debut! The Beckett Theatre: Mick (I WANNA DESTROY YOU); The Representatives: James (THE RAKES: AN INTRODUCTION); Manhattan Rep: Chris (CALLED TO SERVE); Theatre 80: Dan (CLASS A); Zephyer Rep: Jason (SMASHING); Hudson Valley Shakespeare: Hamlet (HAMLET); Commonwealth Shakespeare: Boy (HENRY V); SITI Company / Mary Moody Northen Theatre: Messenger (THE MEDEA STORIES). TV/FILM: THE FOLLOWING (FOX), JEWISH GIRLS ARE EASY, OFF-RAMP, THREE THINGS.






ZOE FARMINGDALE (Christina) Playhouse on Park: Helga (CABARET); WPPAC/Harrison Summer Theatre (LEGALLY BLONDE); West Village Musical Theatre Festival (PRESCHOOL! –Winner, Best Actress WVMTF 2012; GEEKED AND LOADED, THE ZEGEND OF LELDA); The Theatre Company at Debaun, Christmas Past (A CHRISTMAS CAROL); Family Musical Theatre, Kim MacAfee (BYE BYE BIRDIE). FILM/TV: The Onion News Network, IFC, Discovery ID, MTV, various film festivals. COMMERCIALS: Israeli Lottery, UBS Bank, Microsoft. Zoe performs comedy at the PIT and with Story Pirates, and is also a musician/songwriter and other-stuff-writer. Immeasurable thanks to Sean, Darlene, Playhouse on Park and my family and friends for making my dream come true. www.zoefarmingdale.com


---
Dates: November 15 & 16, 2013
All seats: $15
Friday, November 15th at 8:00pm
Saturday, November 16th at 8:00pm
Continuing a tradition started in 2012, Playhouse on Park presents an international festival of one-act plays. Esteemed playwrights from all over the world express their responses to the political issues in their countries, from the economy and education to gender equality and civil rights.
One Act Plays chosen for Theatre Uncut - Playhouse on Park include:

True or False
by Davey Anderson
directed by Sasha Bratt
cast: Jon Ross and Aidan Eastwood

Capitalism is Crisis
by Tim Price
directed by Dawn Loveland
cast: Vanessa Butler and Aidan Eastwood

The Wing
by Clara Brennan
directed by Dawn Loveland
cast: Casey McDougal and Jon Ross

Church Forced to Put Up Gates After Font is Used As Wash Basin By Migrants
by Mark Thomas
directed by Sasha Bratt
cast: Aurelia Clunie, Samantha Martinson, Casey McDougal, Vanessa Butler, Jon Ross, and Aidan Eastwood

The Recipe
by Rachel Chavkin (The Team)
directed by Hunter Parker
cast: Vanessa Butler, Aurelia Clunie, Samantha Martinson, Casey McDougal, Aidan Eastwood

---
May 15 - 18, 2014
$20 adults $18 students, seniors, & Let*s Go ARTS

Thursday, May 15th at 7:30pm
Friday, May 16th at 8:00pm
Saturday, May 17th at 8:00pm
Sunday, May 18th at 7:00pm

Directed by Dawn Loveland

DUE TO MATURE CONTENT, RECOMMENDED FOR AGES 16 AND ABOVE.
High atop a railroad trestle that spans a bone dry creek, two teenagers plan to race across the bridge against an oncoming locomotive. At first their scheme adds excitement to their life in a small factory town during the Great Depression, but their sensual experience, dawning sexuality and confusion awakens dangerous passions in an era of stifled ambitions. With theatrical flourish, humor and lyrical finesse, Naomi Wallace delves into a world where people struggle to change lives that bear down upon them.
"By the end, the play, like that train, has built up a full head of steam and we feel its power." - NYTimes


RICHARD BRUNDAGE (Dray) Playhouse on Park debut. In NYC: Astrov (UNCLE VANYA); Falstaff (HENRY IV, 1-2); Malvolio (TWELFTH NIGHT). New Harmony, IN: Owen (THE FOREIGNER); Broward Stage Door, FL: Ken (RUMORS); Winnipesaukee Playhouse, NH: Louis (SHIPWRECKED), Frank (EDUCATING RITA). Also a busy indie film actor, Richard recently shot his fifth feature-length leading role, a drama called LEO JOHN AIN'T DEAD NO MORE. Previous leading roles include the multi-award-winning YOU ARE ALONE (Gorman Bechard) and CREATIVE NONFICTION (Lena Dunham, creator/star of HBO's "GIRLS").


LESLIE GAUTHIER (Pace) Playhouse on Park debut. Theatre NY: Virgen (STOP THE VIRGENS, dir. Adam Rapp); Flora (TURN OF THE SCREW, Lincoln Center); Girl1/ Playwright (23 YEAR OLD MYTH); Briar Rose (BRIAR ROSE & THE THIRTEENTH FAIRY); Nurse (TITUS ANDRONICUS), Madame de Sade (MADAME DE SADE). Williamstown Theatre Festival: PA (THE BIG EXIT); Greylock Theatre Project. Fordham: Ariel (THE PILLOWMAN), Mother (WEDDING BAND). Fordham University BA-Theatre: Acting & Directing, MXAT, Upright Citizens Brigade. Thank you, Weha; B&D.

MELODY GRAY (Gin) Playhouse on Park debut. Melody is a New York based actor who received her MFA in Acting from The New School for Drama in 2013. She was recently in the TheaterPlots production of THE CHERRY ORCHARD as Madame Ranevskaya (NY Debut). At the New School, Melody played Hecuba (lead) in THE TROJAN WOMEN. She comes to New York from Houston, Texas. Some of her favorite roles there include: Nurse Ratched (ONE FLEW OVER THE CUCKOO'S NEST) and Vera (THE OLDEST PROFESSION). Visit www.melodygray.com for more information.


RICK MALONE (Chas) Playhouse on Park debut. Hartford Stage: Farmer McCarty (OUR TOWN); John  W Engeman Theater: Commander Harbison (SOUTH PACIFIC), Oscar/Roy/Vinnie u/s (THE ODD COUPLE), Lawrence Garfinkle u/s (OTHER PEOPLE'S MONEY). Equity Membership Candidate; SAG-AFTRA.
WESLEY ZURICK (Dalton) Playhouse on Park Debut. Atlantic for Kids: Russel (MR. CHICKEE'S FUNNY MONEY); Pipeline Playlab: Paul/Sketch (I'S TWINKLE); Strawberry Theatre Festival: Joe (HOW TO SETTLE YOUR SCORES LIKE A MOTHERFUCKIN COWBOY); Cincinnati Fringe Festival: Angel/Reuben (THE FIRST BOOK OF: THE BIBLE); Moses (EXODUS! THE STORY OF A BOY...); Palemon (THE CANTERBURY TALES). Strawberry Theatre Festival Best Director winner for HOW TO SETTLE YOUR SCORES LIKE A MOTHERFUCKIN COWBOY.



DAWN LOVELAND (Director)  Playhouse on Park directing credits: RED LIGHT WINTER, THEATRE UNCUT, GOODNIGHT MOON, GO, DOG. GO!, THE CLOWNS, HOMEROOM, DREAM HOUSE, IF YOU GIVE A MOUSE A COOKIE. Other directing credits include WINTERSET (Reading at Berkshire Theatre Festival) and assisting directors at Tropicana Casino in Atlantic City, Surflight Theatre, and Berkshire Theatre Festival.  Recent educational directing credits include Hebrew High School of New England, Kingswood Oxford School.  Dawn is a graduate of Middlebury College.  She is the Director of Education at Playhouse on Park and frequently stage-manages.  She also teaches creative dramatics through the Bridge Family Center.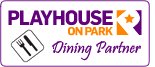 Show your tickets before or after the show at any one
of our dining partners and receive a discount or free offering.

Season 6 Subscription Form | Ticket Info Page | Buy Tickets | Calendar