Lollipop Opera will present an original adaptation of The Frog Prince.  This one-act opera is a sparkling adaptation of the original story, set to music by Donizetti, Offenbach, Sullivan, and Herbert which is both sprightly and glorious.  The humor of this original libretto will appeal to all ages and you will be humming the tunes as you exit the theatre.
SUNDAY, FEBRUARY 12, 2012
2:00pm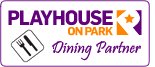 Show your tickets before or after the show at any one
of our dining partners and receive a discount or free offering.