Matters of importance to contemporary teen-agers in school are explored in Homeroom. The show begins with Jeff, expressing the belief that the kids in his homeroom have nothing in common except for their last name starting with the letter "V". Fifteen songs later, Jeff is more aware of the similarities than the differences. The teens come together to share their feelings regarding relationships, academic success and failure and the significance of secrets, lies, loss and lockers. Their individual stories weave together a musical that addresses themes of understanding, acceptance, independence and responsibility. Middle school through High schoolers and their families will enjoy this musical. (90 minutes plus 15 min intermission)

Directed by Dawn Loveland
Musical Direction by Colin Britt
Choreographed by Darlene Zoller



See photos from this production
in our Photo Gallery.
Ticket prices: $20 Adults, $18 Seniors, Students and Let*s GO Arts!
SUN

MON

TUE

WED

THU

FRI

SAT

8

10


11
7:30pm
(Opening Nite)

12
2:00pm


13
2:00pm


14





15


16
10:00am
& 2:30pm

17



18
7:30pm


19
2:00pm


20
2:00pm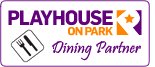 Show your tickets before or after the show at any one
of our dining partners and receive an discount or free
offering!

Ticket Info Page | Buy Tickets | Calendar