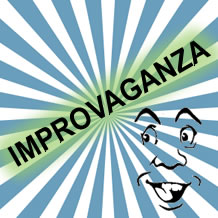 It's baaack! Improvaganza – Connecticut's almost annual improv festival – returns for the third time at Playhouse on Park. A smorgasbord of improv groups will be showing off their style and wit. This fun filled event will feature local improv groups, up and coming performers, and special guests Stray from New York City. The lineup also includes, Hartford's own Sea Tea Improv, Parachute from Conard High School, UCONN's Horse Lincoln, and many more. Get your tickets today…before they sell out!
Friday, June 3rd, 2011
PoP Advanced Improv Class, Sea Tea Improv, Horse Lincoln, Franklin's Peaches
Saturday, June 4th, 2011
PoP Advanced Improv Class, Parachute, Franklin's Peaches, Stray
8:00pm
$10, general admission
STRAY is a group of improvisers who play in a theatrical, narrative style that was developed in Seattle, honed in Europe, and blended in New York. Stray's unique approach creates spontaneous theatre that is comedic, dramatic, or abstract, sometimes all at once.

Jill Farris
Wendy Herlich
Stefan Schick
Brittnie Carrier
Amanda Morse
Felipe Di Poi
Lizzie Stoughton
Kyle Rodriguez
Kim Janvier
Rachel Fox
Colleen Litchfield
Julia Stoughton
Will Niedmann
Jamie Guite
Kevin MacDermott
Matt Saccullo
Claire Zick

Summary Elguindy
Rob Keder
Joe Leonardo
Greg Ludovici
Laura Manasewich
Vladimire John Perez
Julia Pistell
Stephanie Rice
Dan Russell
Kate Sidely
Graham Snow


 Drew Bligh  
 Brian Ingmanson
Tim Jaekle
 John Turner
 Matt Visconage
Jill Westergard



Parachute is Conard High School's (West Hartord) long-form improv comedy troupe. They've been practicing and performing since late 2010.

Sea Tea Improv officially burst onto the comedy scene on April Fool's Day, 2009, and hasn't sat down since. The troupe of eleven players, trained by Hartford Stage Company and the Upright Citizens Brigade, dazzles Hartford and beyond on a regular basis with their witty, raucous interpretations of audience suggestions.
Horse Lincoln is the only improv group at UConn that is based solely on longform improvisation.  Consisting of just undergrads from UConn, Horse Lincoln has won several improv awards, including being named as the 2008-2009 CT cage match champions.