The play tells the story of a psychiatrist, confronted by a patient who has blinded six horses in a violent fit of passion. To the boy's parents, it is a hideous mystery; to the psychiatrist, it is a psychological puzzle that leads both doctor and patient to a complex and disturbingly dramatic confrontation.

"it is magnificent. Rarely does contemporary drama probe so deep – an electrifying evening of theatre" -The Sunday Times

Equus contains adult themes, nudity and strong language, recommended for ages 16+

Directed by Robert Davis

REVIEWS: The Arts, Etc. | CT Wit blog | Hartford Examiner | Rizzo's Blog (Htfd Courant)
SUN

MON

TUE

WED

THU

FRI

SAT

7
7:30pm (Opening Nite)

8
8:00pm
.

9
8:00pm
.

10
2:00pm
Talk Back with the cast


11





12


13



14
7:30pm


15
8:00pm


16
8:00pm


17
2:00pm



ALAN RUST* (Martin Dysart) Hartford Stage:  A Christmas Carol-A Ghost Story of Christmas, The Trip to Bountiful, Brand:NEW Festival of New Work.  Off Broadway:  Broadway, The Three Musketeers.  Regional:  Goodspeed Musicals: 1776; Northern Stage: A Lesson From Aloes, Harvey, The Price, Substance of Fire; The Milwaukee Chamber Theatre:  School For Scandal, A Few Good Men; North Carolina Shakespeare Company:  The Merry Wives of Windsor, The Comedy of Errors, A Christmas Carol, Just a Song at Twilight; The Monomoy Theatre:  Fiddler on the Roof, The Dresser, My Fair Lady, Cat on a Hot Tin Roof, How to Succeed in Business Without Really Trying; The Actor's Ensemble:  K2, Old Times. He has directed extensively in the United States as well as Sydney, Australia, Goteborg, Sweden, Birmingham, England and the U.S. Virgin Islands. He has been a member of the International Theatre Institute and a panelist at conferences in Istanbul, Turkey and in the former Soviet Union. He served as president of the National Theatre Conference for two terms and has been a member of numerous committees in national and international theatre programs. He was a founding member of the World Theatre Training Institute established in Vienna Austria. He has held positions at The University of Washington, The State University of New York at Purchase, The University of Detroit, The North Carolina School of the Arts, where he served as Dean, The University of Wisconsin in Milwaukee.  Mr. Rust has been the Artistic Director of Monomoy Theatre on Cape Cod for the past 31 years, and is also the Director of the Theatre Division of The Hartt School at the University of Hartford.
MARK FORD (Alan Strang) is very excited to make his Playhouse on Park debut! He is a Canadian born actor in his junior year at The Hartt School. Previous credits include the Artful Dodger in Oliver Twist, Buddy Layman in The Diviners, Touchstone in As You Like It and several others. He thanks everyone for their support.
TERRY LAYMAN* (Frank Strang)  Broadway: Twelve Angry Men, Proof, The Ride Down Mt. Morgan, and The Rehearsal.  Off-Broadway:  Manhattan Theatre Club, Manhattan Punchline, Signature Theater, and Keen Company.  Regional Theaters: from Florida to Alaska.  Both London and Birmingham, UK with Continental Divide, Daughters of the Revolution.  Also: Trip To Bountiful, with Ellen Burstyn, The Little Foxes with Geraldine Page, The Royal Family with Eva Legallienne.  Film and TV: The Patriot, numerous episodes of One Life To Live, Law and Order, L&O SVU and Ed.  This season he has guest appearances on Rubicon for AMC and on Bored To Death for HBO.  He directed the English language premiere of Other People's Money in Prague and has directed and acted for many years at the Monomoy Theatre on Cape Cod.
DENISE WALKER (Dora Strang) is pleased to be making her debut with this talented young company. Denise teaches Voice at Trinity College and Miss Porter's School. As half of the Walker-Eklof Duo, she performed internationally and recorded a CD of songs by Gwyneth Walker. Denise is an Equity Membership Candidate. Credits include Our Town (Hartford Stage), Enchanted April (Majestic Theater), Out of Order (Centennial Theater Festival), Lost in Yonkers (Warner Theatre), Dinner With Friends (Clockwork Repertory), Gertrude Stein And A Companion (Acts Factory Players), Bedroom Farce (Lincoln Theater, New Haven), Cat On A Hot Tin Roof and Buried Child (Valley Repertory). She has worked on films including  A Beautiful Mind, Mr. Deeds, Marci X and Sisterhood of the Traveling Pants II.
NORA CHESTER* (Hesther Salomon) is delighted to be making her debut at Playhouse on Park in EQUUS. She has appeared in regional theatres across the country including The Long Wharf, Actors Theatre of Louisville, the Asolo, the Alliance, GeVa, the McCarter, Syracuse Stage, the Alley Theatre, Delaware Theatre Company and nineteen straight summers as a Guest Artist at the Monomoy Theatre on Cape Cod, as both an actor and director. She is a company member of TACT (The Actors Company Theatre) in NYC, appearing in over 30 of their salon performances as well as their acclaimed Off-Broadway productions of The Sea, Eccentricities of a Nightingale, and their original production, The Triangle Factory Fire Project. Nora has been a proud member of Actors Equity Association since 1976.
SASHA PASTERNAK (Jill Mason) Playhouse On Park: Debut. Past Credits: How To Succeed in Business Without Really Trying (Ms. Jones), Big Love (Bella), Richard III (Anne), A Midsummer Night's Dream (Hermia). Education/Training: Pursuing a BFA in Musical Theater, The Hartt School. Other: British American Drama Academy in Oxford, (BADA) through Yale School of Drama and Oxford University.
ALEX LEVIN (Harry Dalton/Horse) is in his fourth and final year at The Hartt School for Musical Theatre. While there, he has been seen as Cinderella's Prince/Wolf (Into the Woods), Hugh (Translations), and Pish-Tush (The Mikado).  Alex spent his summer at the Monomoy Theatre in Cape Cod where he played such roles as Perchik (Fiddler on the Roof), Richard (The Lion in Winter), and Sir Harry (Once Upon a Mattress).
CHARLES SOUTH (Horseman/Nugget) is currently a third year B.F.A. theatre candidate at The Hartt School, and is tremendously excited to start off the year at Playhouse on Park.  Some of his favorite experiences include roles at The Monomoy Theatre in Cape Cod:  Fiddler on the Roof (Mendel), Much Ado About Nothing (Watchmen), Once Upon A Mattress (Featured Dancer). Hartt School credits include Moonchildren (Mike), Sexual Perversity in Chicago (Dan). Charles is also looking forward to playing Francesco Adreini in The Glorious Ones in the winter season.

ADAM SARETTE (Nurse/Horse) is a senior Music Theatre Major at The Hartt School. Recent credits include Dimensions in Dance: A Midsummer Night's Dream Ballet - Puck, The Hartt School: How To Succeed in Business Without Really Trying (Toynbee/Ensemble), and The Mikado (Ensemble).
NICK GIULIANI (Horse) is making his debut at Playhouse on Park and he could not be more excited. He is currently a junior Musical Theatre major at The Hartt School.  Recent credits at The Hartt School include How to Succeed in Business...,Moonchildren and Sexual Perversity in Chicago.
DAVID RAPOSO (Horse) is making his Playhouse on Park debut.  Past productions include West Side Story (Tony), The Laramie Project (Dennis Shepard), and How to Succeed in Business Without Really Trying.  He is currently attending The Hartt School.
SCOTT CARON (Horse) has just begun his third year in training at The Hartt School and is very excited to be starting the year off at Playhouse On Park! Recent credits include roles in The Laramie Project, Mere Mortals, Moonchildren, How to Succeed., and Baby: The Musical.  Scott is looking forward to this December when he will be playing Benjie in Summer of '42 at Hartt.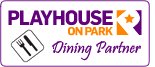 Show your tickets before or after the show at any one
of our dining partners and receive an discount or free
offering!

Ticket Info Page | Buy Tickets | Calendar