EQUUS
by Peter Shaffer
October 6 - 17, 2010

THAT HOLIDAY FEELING
a seasonal cabaret
December 8 - 19, 2010

YOU'RE A GOOD MAN,
CHARLIE BROWN
Book, Music and Lyrics by
Clark Gesner
Additional Dialogue by Michael Mayer Additional Music and Lyrics by
Andrew Lippa
June 15 - 26, 2011

CHICAGO
Music by John Kander
Lyrics by Fred Ebb
Based on the play by Maurine Dallas Watkins
July 13 - 24, 2011
You're a Good Man, Charlie Brown invites the kid in all of us into the world of Charlie Brown, his dog Snoopy, and the rest of the Peanuts gang for a fast paced, lighthearted musical, guaranteed to please audiences of all ages. This 1999 revised version of Charlie Brown won two Tony Awards and three Drama Desk Awards. Come have a happy day with the Peanuts gang!

Directed by Sean Harris
Musical Direction by Emmett Drake





SUN

MON

TUE

WED

THU

FRI

SAT

16
7:30pm (Opening Nite)

17
8:00pm
.

18
8:00pm
.

19
2:00pm
Talk Back with the cast


20





21


22



23
7:30pm


24
8:00pm


25
8:00pm


26
2:00pm




STEVEN MOONEY (Charlie Brown) is thrilled to be back at Playhouse on Park. He was recently a part of the New York Fringe Festival in I Don <3 U Ne Mor the Musical. Credits include: THE 25TH...SPELLING BEE(Barfee), KISS ME, KATE! (Man 1), RAGTIME (JP Morgan), MY SON PINOCCHIO (Stromboli) as well as Happy Jablonski in the staged reading of the new musical AN AMERICAN TRAGEDY at the York Theatre. He is a graduate of Marymount Manhattan College. "Enjoy!!!" www.StevenMooney.com
LINDSAY ADKINS (Lucy) Originally from Wilbraham, MA, Lindsay recently received her BFA in Music Theatre from the Hartt School at the University of Hartford. Favorite credits there include INTO THE WOODS (Rapunzel), CHILDREN OF EDEN (Aphra), AH, WILDERNESS! (Muriel McComber), and MARAT/SADE (Simonne Evrard). Regional credits include HELLO! MY BABY (Frances Gold) at the Goodspeed Musicals Festival of New Artists, THE PRINCE AND THE PAUPER (Lady Anne) and SLIM AND MISS PRIM (Miss Prim) at the Majestic Theater in West Springfield, MA, THE RICHARD ROGERS REVUE at the Bushnell, and OTHELLO (Lady 1) with the Commonwealth Shakespeare Company. Lindsay is thrilled to be making her debut at Playhouse on Park, and sends all her love to her family, whose constant support has made everything wonderful in her life possible, friends, and Jason.


HILLARY EKWALL (Sally) a West Hartford native and Skidmore College graduate "can't stand it!" that she gets to play the role of Sally Brown! Other Playhouse on Park credits include I THINK I CAN, SWING SET, THAT HOLIDAY FEELING and MY SHOW, A CHOREOGRAPHER'S STORY. Recently she was seen in the national tour of CURIOUS GEORGE LIVE! and originating the role of Young Alice in the American Premiere of ONCE UPON A TIME IN ATLANTIC CITY. Favorite Roles include Gilmer (GODSPELL) at the Ivoryton Playhouse and Kathy Selden (SINGIN' IN THE RAIN) and Anytime Annie (42nd STREET) with the West Hartford Summer Arts Festival. Thanks to Sean, Emmett, and Dawn for this incredible opportunity and my friends and family for your constant support, encouragement, and love.



DANTÉ JEANFELIX (Schroeder) This is Danté's second show at Playhouse on Park. He is a senior at Northwest Catholic in West Hartford. Next year, he will be attending NYU for acting in the fall at the Tisch School of the Arts. Danté takes tap and ballet at the Hartt Community Division and he takes voice lessons from Janelle A. Robinson. He last appeared on the Playhouse Stage in THAT HOLIDAY FEELING cabaret. Other credits include: Northwest- LITTLE SHOP OF HORRORS (Orin-The Dentist), PEBBLE IN YOUR SHOE, RUMORS (Officer Welch), and 42ND STREET (Julian Marsh). Hartt- Summer Vocal Institute for Musical Theatre. Danté would like to thank God, his family, friends and a special thanks to Janelle, Sean, and the amazing cast and crew of You're a Good Man Charlie Brown.




KEVIN BARLOWSKI (Linus) returns to the Playhouse after his turn as that frolicking feline Professor the Cat, where he encouraged children of all ages to proclaim I THINK I CAN. On this stage he has given a MOUSE a COOKIE (The Boy), provided audiences with THAT HOLIDAY FEELING and accompanied the SING ON! benefit performance. He returns home to his native West Hartford after touring internationally in THE COMPLETE WORKS OF WILLIAM SHAKESPEARE (ABRIDGED) where he played the role of Daniel throughout Thailand. Kevin is a graduate of Circle in the Square Theatre School's Musical Theatre Program in New York City and holds a B.A. in Theatre Education from Emerson College. Regional credits include URINETOWN (Caldwell B. Cladwell), A MIDSUMMER'S NIGHT DREAM (Lysander, Francis Flute, First Fairy), INTO THE WOODS (Baker), 42ND STREET (Billy Lawlor) and FOOTLOOSE (Ren McCormack). He has also had the privilege of performing in BROADWAY FOR A NEW AMERICA. Kevin is an active accompanist, musical director, vocal coach and faculty member at the Greater Hartford Academy of the Arts.


JOSEPH FIERBERG (Snoopy), a native of West Hartford, is making his POP debut, though he starred in the Park Road Playhouse production of WHAT'S WRONG WITH THIS PICTURE? in 2006. Favorite roles include: Cosmo (SINGIN' IN THE RAIN), Tulsa (GYPSY), Andy (42ND STREET), Otto Frank (THE DIARY OF ANNE FRANK), and Felix (THE ODD COUPLE). He is currently pursuing a B.F.A in Musical Theatre from Syracuse University. SU Drama productions include: CABARET, LYSISTRATA, and the forthcoming THE CRADLE WITH ROCK. Joseph also appeared as a guest artist with the Hartford Symphony Orchestra in May 2009, premiering an original choreographed piece. Many thanks to his friends and family for all of their love and support, especially his dog, Wilson, for his inspiration. For Grandpa Lester. Joseph will be seen in POP's July production of CHICAGO.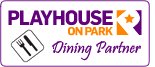 Show your tickets before or after the show at any one
of our dining partners and receive an discount or free
offering!

Ticket Info Page | Buy Tickets | Calendar