EQuilibrium Dance Theatre presents "The Settlement"

The Settlement is the modern story of different journeys through life as
told by the dancers of EQuilibrium Dance Theatre. Through an
innovative combination of movement, music, and spoken word, the
production explores finding an identity in a society that is
increasingly disconnected from ritual, nature and community.
For the past two years, EQuilibrium Dance Theatre has pushed the
boundaries of performance dance in the Connecticut area by fusing
elements of hip hop, lindy hop, b-boying, African and modern
dance. Under the direction of Artistic Director Jolet Creary, the
company inspires and entertains audiences with its unique blend of
contemporary movement styles. This program will feature choreography from all the artists of EQuilibrium Dance Theatre.

Tickets:  Tier 1: $22.50, Tier 2: $20.00, Tier 3: $17.50
Seniors, Students and Let*s GO Arts members save $2 
SUN

MON

TUE

WED

THU

FRI

SAT

24
7:30pm (Opening)

25
8:00pm
.

26
8:00pm
.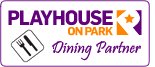 Show your tickets before or after the show at any one
of our dining partners and receive an discount or free
offering!