COMEDY NIGHT AT THE PLAYHOUSE

IMPROV AT THE PLAYHOUSE

IMPROV: CT Cage Match Series

Schedule:

October 12 - Hole In The Wall
November 23 - Playhouse On Park
December 14 - Hole In The Wall
February 8 - Hole In The Wall
April 5 - Playhouse On Park
May 17 - Playhouse On Park

IMPROVAGANZA

Feb 22 and 23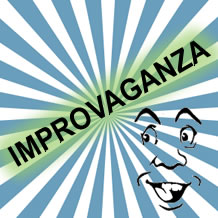 IMPROVAGANZA 2013

Playhouse Theatre Group, Inc. and Hot Cocco Productions Announce the 2013 Improvaganza! 
A rare alignment of improv is happening at Playhouse on Park!  A smorgasbord of improv groups will be performing on the same day, at the same time, at the same place! Two fun filled evenings will feature some of the areas best known improv groups as well as up and coming performers.  

Friday, February 22nd Saturday, February 23rd
8:00pm $10, general admission BYOB

The Great Make Believe Society The Middletown,CT-based The Great Make Believe Society was founded in 2012 when the two man super group BenTopher exploded into the many-headed hydra that it is today. The Great Make Believe experiments with long and short form improv to the delight of audiences audiences at Oddfellows Playhouse, Billings Forge and The Buttonwood Tree Performing Arts and Cultural Center.
Laughterhouse-Five was founded in October, 2010 in New Britain, CT and has enjoyed performing comedy for audiences in the central CT area ever since. Our moms always warned us that everyone would laugh at us someday and we're always happy to prove them right.
Phantom Sheep is Western Mass's own premiere comedy troupe specializing in short form improv, social satire, and pop culture parody. They are known for their "LaughCrafters" shows and workshops for all ages that are popular at schools, libraries, and special events. Over the past decade they have produced over 200 sketches and countless improvised scenes along with creating over 35 original custom shows for the theme park industry. Visit phantomsheep.com for more stuff, "like" them at Facebook.com/phntmsheep, and enjoy their channel at Youtube.com/phntmsheep.
Sea Tea Improv has performed in over 200 shows in throughout New England, including the wonderful Connecticut Cage Match right here at Playhouse on Park. They debuted their musical form at Hartford's Envisionfest with the dastardly "Hartford Rocks: The Musical." They recently opened a studio in downtown Hartford and are very happy to be participating in Improvaganza for the fourth year.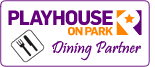 Show your tickets before or after the show at any one
of our dining partners and receive a discount or free offering.