DATE
February 12, 2011

TIME
8:00pm

TICKETS
$25 per person
Seniors, Students, Let's Go Arts save $2

OTHER INFO
Special Valentine's Day reception following the performance. Desserts provided courtesy of A Little Something Bakery and ShopRite, both of West Hartford.

Rob Zappulla, backed by his seven piece band, will perform the
timeless hits of Frank Sinatra! Rob's show spans the five decades of
classic Sinatra, from the days with the Tommy Dorsey Orchestra to
the Las Vegas show rooms. Rob's tribute emulates a cabaret setting
in the show rooms of the 50s and 60s, where Sinatra gave some of
his most memorable performances. This show moves non-stop with
excitement, and when Rob is not singing, his sense of humor will
keep you amused throughout his performance.

Tickets include a special Valentine's Day celebration immediately following the performance. Stick around for a dessert reception and dancing in honor of Valentine's Day!

Desserts provided by A Little Something Bakery and ShopRite.  



ROB ZAPPULLA grew up in Connecticut, where he had big dreams. As an 8-year-old, Zappulla heard Harry James play the trumpet and the die was cast. Rob studied at the prestigious Hartt School of Music. After school, he found work as a trumpeter with show bands such as The Barnum and Bailey Circus, The Box Tops, Lesley Gore and many other well known groups. His professionalism and talent took him from a jazz and classical trumpeter, theater musician and conductor to performing with big bands and symphony orchestras. From the 1980's to present, he has toured with several groups, opening for Tower of Power, The Temptations, The Drifters, The Shirelles, and Little Anthony and the Imperials, to name a few. As a trumpeter, he can be heard on countless recordings with a variety of bands.
Rob's rich baritone voice, superb trumpet playing, extraordinary style and showmanship continue to bring him tremendous accolades at major theaters, casinos and various venues throughout the world.
Rob's website is at www.robzappulla.com.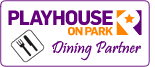 Show your tickets before or after the show at any one
of our dining partners and receive an discount or free
offering!