Bring Your Students to see Professional Live Theatre in West Hartford
An opportunity to extend the classroom by bringing students to the theater during the day for a matinee performance. As part of your field trip experience, we are happy to provide:
A study guide to prepare students for the production
A Professional from Playhouse on Park will travel to your school and lead a workshop for students, teaching them about elements of this production

Space is limited and filled on a first-come, first-served basis.

A post-show meet-and-greet with the cast
Teachers and paraprofessionals chaperoning the trip attend for free!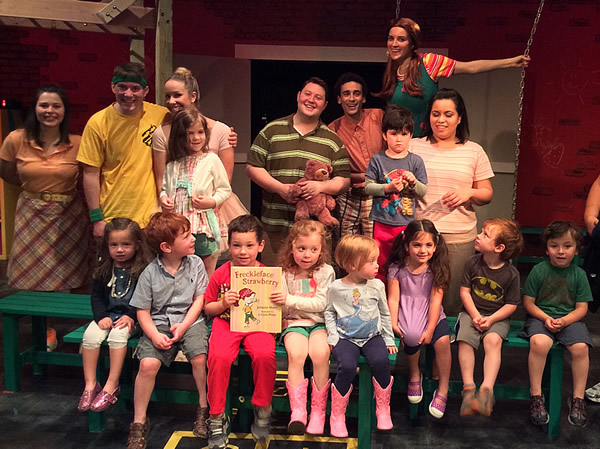 Solomon Schechter preschoolers attended Freckleface Strawberry!
2016-2016 Season Offerings
---
Grades PK - 4
PINKALICIOUS


Book & Lyrics by Elizabeth and Victoria Kann, based on the book by Elizabeth and Victoria Kann,
Music and Lyrics by John Gregor
December 6 - 16, 2016

School Day Matinees: $7 per student

Pinkalicious can't stop eating pink cupcakes despite warnings from her parents. Her pink indulgence lands her at the doctor's office with Pinkititis, an affliction that turns her pink from head to toe - a dream come true for this pink loving enthusiast. But when her hue goes too far, only Pinkalicious can figure out a way to get out of this pink predicament. PINKALICOUS is about learning the power of self-control and the importance of moderation.
---
Grades PK - 3
THE CAT IN THE HAT


Based on the book by Dr. Seuss. Play originally produced by the National Theatre of Great Britain
May 30 - June 9, 2017

School Day matinees: $7 per student

From the moment this tall, red-and-white-striped hat appears around the door, Sally and her brother know that The Cat In The Hat is the funniest, most mischievous cat they have ever met. But what will mum find when she gets home? Dr. Seuss's The Cat In The Hat is a lively, engaging "play with sound effects." Not a word has been changed in Dr. Seuss's classic, ensuring anyone who's read the story will be transported into the world they've always imagined.
---
Playhouse on Park has some funding available to allow students in need of financial assistance to attend productions. Please contact Kyle Reynolds via email or phone at (860) 523-5900 ext. 15 to discuss whether your school group can take advantage of some of this funding.